HMS Vigilant: Torpoint Ferry suspended for submarine departure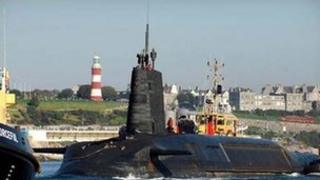 The main ferry service between Cornwall and Devon was suspended during the morning rush hour to allow a nuclear submarine to leave Plymouth.
The Torpoint Ferry halted all services while the Royal Navy's nuclear submarine HMS Vigilant left Devonport.
The Vanguard class Trident submarine has undergone a major three-year refit at HM Naval Base Devonport.
The ferry is a major method of transport between Cornwall and Devon.
Special dock
HMS Vigilant is one of four Vanguard class vessels which carry Trident strategic missiles. The submarines and their missiles make up the UK's nuclear deterrent force.
It now has enough fuel to power it through the rest of its working life. The Ministry of Defence said it was estimated that it would be in service until the late 2020s.
On Monday, Defence Secretary Philip Hammond announced HMS Vengeance, the Royal Navy's fourth and final Trident submarine, would also undergo its refit at Devonport.
The Ministry of Defence said the contract would secure 1,300 jobs in Plymouth - 1,000 at defence firm Babcock and 300 at other firms in Plymouth.
The submarines are berthed in a specially-converted dock for their refits because they are too big for the yard's other docks at 150m (492ft) long.
In comparison, Devonport Naval Base's Trafalgar class submarines are 85m (279ft) long.