M5 coach crash: Tribute paid to dead passenger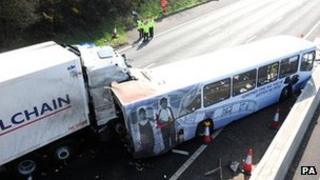 A director of an employment agency has paid tribute to a member of staff killed in a crash on the M5 in the West Midlands on Saturday.
The 35-year-old from Smethwick died after a lorry collided with a stationary coach he was aboard.
Harjit Singh, from Fusion Personnel Ltd, said his employee was "well liked" and a "valued member".
The 65-year-old lorry driver from Somerset also died. A second bus passenger was critically injured.
West Midlands Police said he remained in hospital with serious head injuries and multiple leg fractures.
The single-decker vehicle was carrying fruit workers from Birmingham to the Evesham area of Worcestershire.
Some 34 passengers - men and women - were on board.
'Contacting families'
Mr Singh spoke of his shock at the fatal accident.
He said: "My thoughts and sympathy are with the family of the deceased.
"He had worked for the company for eight or nine years. I knew him very well and feel for members of his family some of whom also worked for the company.
"He was well liked and a valued member.
"The company will assist his family in any way we can.
"My primary concern at present is also with all of those injured whilst travelling in the coach.
"We are in the process of contacting the injured and their families and are seeking to provide counselling and other assistance that may be required by them to come to terms with and to deal with the ordeal of being involved in this accident."
Mr Singh added that the company would carry out its own investigation into the crash.
The 49-year-old coach driver was arrested and bailed following the collision in thick fog.
He had been questioned on suspicion of causing death by dangerous driving.