RAF Northolt commander death: driver given community service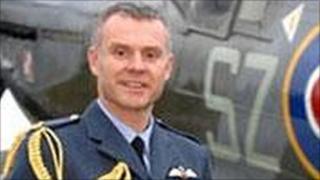 A van driver who knocked down and killed a senior RAF officer has been given 100 hours of community service.
Paul Luker, 51, of Farnham Royal, Slough, hit Group Captain Tom Barrett as he was cycling on the A40 in Hillingdon, west London, last year.
The 45-year-old officer, a father-of-two, had served as a personal aide to the Queen and was given an OBE in 2008.
Luker was sentenced at Harrow Crown Court for causing death by careless driving.
Group Capt Barrett, station commander at RAF Northolt, was cycling towards his home in Beaconsfield, Buckinghamshire, during rush hour on 10 March when he was struck from behind by Luker, a dry cleaning delivery driver.
He was hit with such force that he was propelled into a cycle lane on the other side of the road.
The officer, who had fought in Afghanistan and Iraq, was taken to St Mary's Hospital, Paddington, in a critical condition but died later that night.
Luker, who had been convicted in February, was also disqualified from driving for 12 months.