Mobility scooters: MP Alison Seabeck calls for training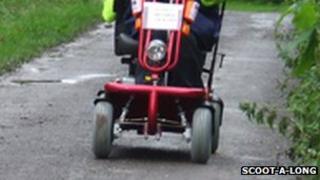 Compulsory training should be given to people who use a mobility scooter, a Devon MP has said.
Alison Seabeck, the Labour MP for Plymouth Devonport, also called for stricter safety checks and official records to be kept of accidents.
Last year a 79-year-old man from Bodmin in Cornwall was killed when his mobility scooter overturned and pinned him against a wall.
Scoot-A-Long, a charity for disabled people, has backed the MP's campaign.
There are two maximum speeds for mobility scooters - 4mph (6km/h) for scooters which can only be ridden on pavements and 8mph (13km/h) for on-the-road scooters which must have full working lights.
Peter Baldacchino, a spokesman for Scoot-A-Long, said the charity's aim was not to discourage the use of mobility scooters, but to ensure disabled people could "get out and about and enjoy life safely".
The 60-year-old from Polperro has used both types of scooters for 15 years.
He said: "I've got one I keep in the car and one for the road and I'd be completely sunk without them.
"But at the moment there's absolutely no regulations about who can use them - anyone can just go into a shop, buy one and take it straight onto the road.
"There's no wilfulness about it, but there are so many more people using these machines and some just aren't aware of the dangers.
"We think even just one hour of training would give most people the knowledge they need to be safe."
'Balancing act'
Mrs Seabeck has raised the issue in the House of Commons.
"With an increasing ageing population, some action has to be taken to ensure that standards are maintained in terms of the safety of these vehicles and that some basic training is undertaken by all users," she said in an adjournment debate.
"It's important that when they're sold to people who've never driven and they intend to use them on the road, that training is compulsory."
Transport Minister Norman Baker said there was cross-departmental work going on to address the "balancing act" between safety and protecting a lifeline for the disabled and elderly.
"I do think there's an issue about basic training and the safety of these vehicles," he said.
He said the government had plans to change the speed limits for mobility scooters, but from next year police forces would be able to officially record accident statistics involving them.