Will shale gas give East Midlands an energy boost?
John Hess
Political editor, East Midlands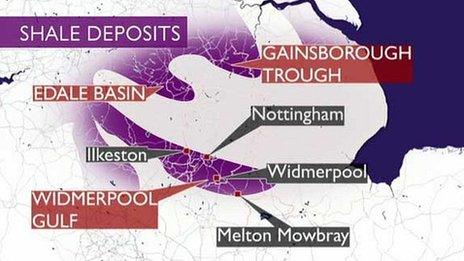 It's the Leicestershire town that gave the world the expression: to paint the town red.
It's also home of the traditional pork pie, its designation now protected by the European Union.
Yet its residents may want protection from the ingredients, a mile underground.
From the tranquillity of the Vale of Belvoir to the Derbyshire Peak District, the East Midlands is potentially very rich in gas deposits.
He showed me box 14189. It contained rock drilled at Duffield, just north of Derby.
"This rock is over 325 million years," he told me.
"But any black mark on the rock indicates there was plant life of some kind.
"That's the tell-tale sign that this shale could produce gas."
Shale gas reserves have been identified in three main areas of the East Midlands:
the Widmerpool Gulf, which starts in Melton Mowbray and stretches through south Nottinghamshire into Derbyshire;
the Edale Basin in north Derbyshire and south Yorkshire;
the Gainsborough Trough in north Nottinghamshire.
The gas is found mainly in those parts of the region with a history of coal mining.
But how is the gas extracted?
"Water is pumped at very high pressures. That splits the rock open," said Ed Hough.
"Sand is also pumped through the bore hole and that goes into the fractures.
"As the rock tries to close up, the pressured water and sand solution keep the fractures open and gas can flow from the rock to the bore hole."
This, and the latest drilling technology, has opened up new possibilities. But it's controversial.
Drilling was suspended pending a government safety review.
In the United States, critics claim fracking contaminates the water supply with gas.
A fire ball, which was ignited when the cold water tap was turned on, became an internet sensation.
But the US is now also self-sufficient in gas and it's helping keep energy prices down.
The former Nottingham South MP, Alan Simpson, now a sustainable energy policy adviser for Friends of the Earth, is worried about the consequences of a new dash for gas.
"This is the experience from the States; if you give untrammelled permission to race down that route, you end up with thousands of drilling sites producing billions of gallons of waste," he told me.
"It's like a toxic soup that is just poured back into the land.
"Once those companies have milked the profits, the communities affected are going to pick up the legacy for generations to come."
The UK reserves, according to one industry expert, could be seven times larger than the whole of the North Sea gas field.
"At best, it's years away," he added.
"But if it comes, we must be ready to take full advantage of it."
That could be the signal for a new dash for gas that could transform the country's economy... but also our countryside.