Budget paves way for public sector postcode pay freezes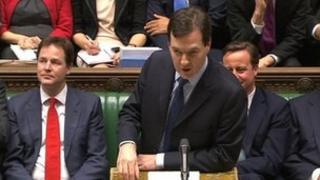 Like much of the Budget, the chancellor's decision to press ahead with local public sector pay bargaining was heavily leaked.
In the end it only merited a few sentences in George Osborne's speech, but they were enough to suggest many public sector workers could face years of wage freezes.
The chancellor has told government departments they can move to local pay bargaining when the overall public sector salary freeze begins to end next year.
Trade unions believe that will lead to growing inequality as salaries in some parts of the country are frozen while others get pay rises.
More jobs
We now know more about the government's case though, as George Osborne has published the evidence he has presented to the public sector pay review bodies.
It claims local pay will increase the quality of public services, help the private sector create more jobs and save the government money.
The Treasury's long-term aim is to tackle what it says is a public sector premium.
According to the Institute for Fiscal Studies, public sector workers nationally earn around 8% more than staff in the private sector.
But there are huge variations, with workers paid on average 18% more in Wales and 13% more in Scotland.
In England, Yorkshire and Humber and the East have the biggest premiums of 13% with the North East not far behind on almost 12%.
In fact, according to the figures, only male public sector workers in the South East are paid less than their private sector equivalents.
If the government is intent on wiping out that premium, it seems inevitable pay rates in some regions might have to be frozen for years to come.
Stigmatised regions
There are concerns even within government about that. Business Secretary Vince Cable told me at the Lib Dem spring conference he feared regional public sector pay would stigmatise the North East.
But the chancellor insists this will be local and not regional pay bargaining, with pay differentials often emerging within regions.
In its evidence, the Treasury says the local pay system introduced into the Ministry of Justice and Courts Service by Labour could be a model of how it will work in other departments.
That system has pay zones. It has led to higher rates for staff in London and the South East, but it also rewards staff in what it calls "wage hotspots". Most of those are also in the South East but they do include the likes of Bristol, Birmingham and Merseyside.
But in England, no hotspots are found north of Manchester, and so this system could still leave a whole region like the North East out in the cold.
Unions and Labour MPs have been particularly venomous about that idea, saying it will produce postcode pay freezes.
The TUC estimates just a one-year 1% drop in public sector salaries will take £78m out of the North East's economy.
Kevin Rowan, from the Northern TUC, said: "This is the latest attack on the North East from a chancellor who doesn't know or care about our region's economy or public services.
"This policy would have a devastating impact on the region's households, retailers and set our economy back further. We fear this figure could increase 10-fold in a matter of years if the government gets its way."
Protest letter
The 26 North East Labour MPs have also written an open letter protesting.
In it they say: "The Government's proposals will lead to different wage rates between regions and possibly within the region.
"The North-South divide will grow and the least prosperous areas of the country will be the hardest hit, demand will be sucked out of the local economy as the money will not be there to spend - impacting on jobs in the private sector."
But that's where there is a huge difference of opinion with the chancellor.
Much of the Treasury's case for local pay is based on the money it would save. Some is based on evidence that it could produce better quality public services.
But the chancellor also believes it could boost private sector growth in places like the North East.
He argues the private sector is "crowded out" because it can't compete with high public sector wages.
Remove the pay differential, and he believes the private sector would be more likely to expand.
It's a theory that is completely rejected by the opponents of local pay bargaining, and the Treasury doesn't quote any detailed evidence in its submission to back it up.
There are though some within business who do say it is a factor.
Nurses and teachers
It will take a long time until we find out who is right.
In reality, the decision to press ahead with local pay bargaining will take a long time to play out, possibly a decade or more.
We also don't know yet whether the pay review bodies for the likes of nurses and teachers will choose to adopt it or stick to national agreements.
But all the current headlines might be causing nervousness in Lib Dem and Conservative MPs in regions like the North East.
Conspicuously, none of them have as yet backed this idea, and they must be worried that they could face the backlash if we begin to see some regions becoming poor relations in terms of public sector pay.