Butcher Keith Fisher's taste buds insured for £1m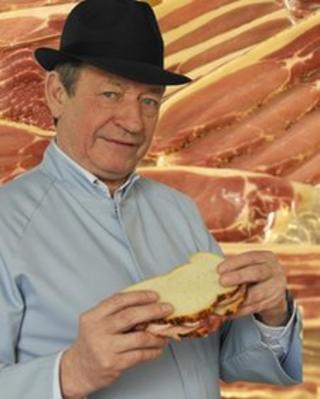 A master butcher is to have his taste buds insured for £1m.
Keith Fisher's palate means he can identify any variety or cure of pork in the world.
He will be covered to protect his sense of taste, which has distinguished more than 50,000 cuts and cures of bacon during a 43-year career.
The 61-year-old from Leighton Buzzard, Bedfordshire, is being insured ahead of a national bacon award competition in which he is the head judge.
He was trained at London's Smithfield College and market, where meat has been sold since the 10th century, and is the fourth generation of his family to become a butcher.
He said taste has always played a huge role in his life, and was honoured to discover his taste buds were to be insured for such a large sum.
"My ability to taste the subtleties in different producers' bacon has stood me in very good stead over the years and has proven to be critically important when it comes to judging the best of the best," he said.
'Resident baconologist'
Mr Fisher now sits on the board of the British Pig Executive (BPEX).
It aims to maintain the sustainability of British pork and bacon and regularly judges the grades of pork cuts.
The policy insuring the chief master taster's taste buds marks the launch of the Red, White & Bacon Awards - a national competition celebrating the very best of bacons, as part of Bacon Connoisseur's Week.
Tina Mulholland, from BPEX, said: "As a grand master butcher and the resident baconologist and head judge for Bacon Connoisseurs' Week, Keith's vast experience makes him the ideal person to lead the judging panel of tasters.
"As such, it was imperative that we protect his prize assets for the campaign."