Turtles seek protected marine zones: Exeter scientists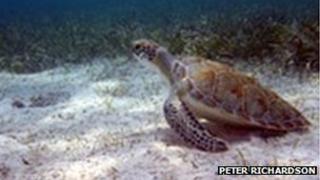 A high proportion of green turtles seek out protected areas of the ocean, according to research by Exeter University scientists.
Scientists at the Cornwall campus in Penryn found that 35% of all green turtles were found in Marine Protected Areas (MPAs) around the world.
MPAs are regulated areas of ocean in which fishing is restricted, enabling seagrass and algae to flourish.
The university said the figure was "much higher" than just coincidence.
Habitat protection
The research team monitored 145 green turtles from 28 nesting sites, using satellite tracking devices, to record where the turtles came from and travelled to.
Prof Brendan Godley, from Exeter University, said: "Our global overview revealed that sea turtles appear in Marine Protected Areas far more than would be expected by chance.
"There has been debate over the value of MPAs, but this research provides compelling evidence that they may be effective in providing safe foraging habitats for large marine creatures."
Fisheries Minister Richard Benyon said: "The results will mean we will better manage the oceans and protect turtle habitats which are key to helping them survive."
The study has been published in the journal, Global Ecology and Biogeography.