MP's delight as the Queen unveils her Jubilee window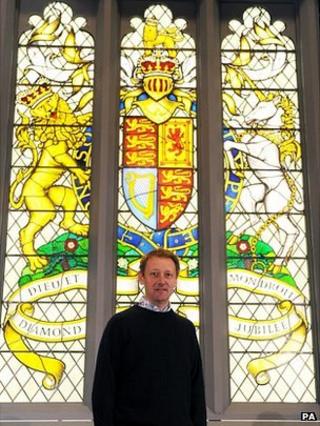 Michael Ellis' dreams have been realised.
The Queen has addressed MPs and peers in Parliament's Westminster Hall, to mark her Diamond Jubilee.
Queen Elizabeth II also thanked her audience for their gift of a stained glass window depicting her coat of arms.
This is the very window that the MP for Northampton North and the all-party parliamentary group on the Queen's Diamond Jubilee, commissioned.
As first blogged on 9 January, Michael Ellis, who is a man with a great interest in all things constitutional, was dismayed to learn that plans were not already in place to mark the Queen's anniversary.
Now he's thrilled.
"I was absolutely delighted with it, made in London in the traditional way," Mr Ellis smiles.
"It's important because it's a way of Parliament and parliamentarians expressing their respect and affection for the service, the dignity, the integrity and the honour that the Queen has brought to her office over the last 60 years."
Respect and honour
And in case you're wondering, he was adamant that the money should not come from the public purse.
"We were very clear that we didn't want any tax payers' money going on this gift.
"We managed to raise the money for the window in two months."
"It is right opposite her late father's coat of arms on the south side of the hall."
And we are reliably informed that: "Her Majesty's now going to have something in common with King Henry VIII because she will be the first sovereign to have their arms in that window since his time."
I bet you're glad you know that.
The last British monarch to celebrate 60 years on the throne with a speech to parliamentarians was Queen Victoria in 1897.
The window, paid for by members of both Houses, will be installed in Westminster Hall later this year.