West Midlands Police cuts 'linked to sickness rise'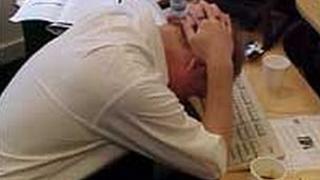 More West Midlands Police officers are becoming ill with conditions including stress, which could be linked to force cuts, their federation has said.
Steve Grange, deputy secretary of West Midlands Police Federation, said he was aware, anecdotally, of a rise in officers reporting sickness and stress.
West Midlands Police estimated it would lose 2,700 posts in total by 2016 and has already lost 300 posts since 2010.
The force said it was supporting all workers and that crime had fallen.
Rest days cancelled
Mr Grange said morale was low and the loss of hundreds of workers was beginning to have an impact on staffing issues.
"I don't have concrete figures but, as their representative, a lot of officers speak to me.
"Increasingly they are not able to take their refreshment breaks, rest days are being cancelled and they are being forced to work over their shifts.
"They're not being allowed to book annual leave when they want to because there isn't the cover and we're seeing more people being signed off sick with depression and stress.
"I can't say there is a direct correlation but the number of staff has gone down since 2010 and that inevitably places more pressure on those left behind.
"What we do know is that sickness is increasing."
'Less for less'
He said that, within a team, 28 officers was the minimum number the force had stipulated was required for a shift, but due to cuts that was increasingly being dropped to 22 officers.
The force announced earlier this week it would cut a further 85 officer posts and 234 support roles in 2013-14.
Mr Grange said: "Reducing the back office doesn't make that work load go away, it just filters down to the front line.
"The force expects us to do more for less, but there comes a point when all you get with less is less."
West Midlands Police has to save £126m over four years. It has already found the £25m savings it needs for 2012-13 and is now working on making savings of £16m in 2013-14.
As crown servants police officers cannot be made redundant, but they can be forced to retire after 30 years' service.
'Painful decisions'
The force said it could save £6.2m form efficiency savings by centralising administrative roles, it could save £4.5m through compulsory retirements of officers in their 50s, and £5.3m by reducing the number of police support posts.
Deputy Chief Constable Dave Thompson said in spite of the reduction in numbers total crime had fallen across the West Midlands by 9.5% in 2011 compared to 2010.
He said: "This isn't just about abstract savings but about people and we are acutely aware this is a difficult time for those affected by the priority-based budgeting process.
"But the financial position we are in means that challenging and sometimes painful decisions have to be taken.
"We will be doing everything possible to support those affected staff to find them other roles within the force."