Last minute Budget plea to Chancellor from business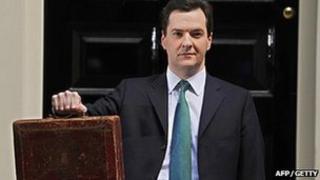 With George Osborne about to present his latest Budget, last minute lobbying may appear rather redundant these days.
Forgive me but we've been getting a Budget leak a day for the past fortnight.
Undaunted, politicians and business leaders in the East Midlands still hope they can bend the Chancellor's ear... even at this late stage.
Unemployment in the region may be on the rise, but the business community is feeling upbeat.
That's been helped by a national survey for the BBC by the Nottingham-based data credit agency Experian.
It revealed the East Midlands is ranked third out of the nine English regions for what Experian describes as "business champions"- the firms with high growth potential, especially if located in Melton Mowbray and Blaby in Leicestershire, and Chesterfield.
And the East Midlands was placed fourth as "an exporting region", with firms in North West Leicestershire and Amber Valley leading the export drive.
Helping business
George Cowcher of the Derbyshire and Derbyshire and Nottinghamshire Chamber of Commerce wants a pro-business budget.
The region's big name manufacturers - Rolls Royce and Toyota - are bucking the downturn trend and doing rather well.
So he wants particular help for the region's small and medium sized businesses.
And he hints that the days of local firms going off-shore to relocate in China are over.
"Indeed, we are talking to some manufacturers about bringing production back from China to the UK," he said.
"That's because the UK it is a good place to do business. Shipping and production costs in China are increasing."
Help for small businesses and entrepreneurs is on the wish list of Uday Dholakia, of the Leicester Asian Business Association.
"I would like George Osborne to give back some fiscal rebate to the region's entrepreneurs. Those are the people prepared to take a chance on creating jobs and new enterprises and they need support," he said.
Effective policies?
Naturally, the Budget is a big political occasion.
An indication of the subsequent debate to come was clearly evident in BBC television's Our Economy debate for the East Midlands.
A feisty Anna Soubry, the Conservative MP for Broxtowe, summed up the priority of George Osborne in two words: deficient reduction.
"For every £8 the government have had to cut, the Labour government, if re-elected, would have cut seven. That's the reality," she said.
Labour MPs such as Derby North's Chris Williamson offer a very different perspective.
"Studies have shown that people out of work in the 1980s had their entire life blighted. I don't want another wasted and forgotten generation as a result of the policies of George Osborne," he said.
"This government is pursuing policies which are not working."
With the coalition this May marking its second anniversary in power, the Chancellor's economic measures now could shape the political direction of this government…. right up to the next general election.