More South East air capacity needed, says David Cameron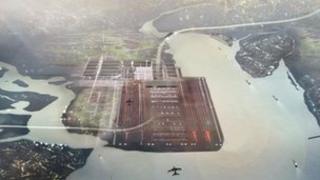 The need for more airport capacity in the South East has been highlighted by Prime Minister David Cameron.
He said the UK needed to remain a key global hub and ministers would study the case for a Thames Estuary airport.
The government was making best use of existing capacity at Gatwick and Heathrow but decisions needed to be taken for the long-term, he added.
The coalition's aviation strategy would examine the "pros and cons" of a new estuary airport, he said.
'Global hub'
In a speech setting out his vision for British infrastructure, he said: "I'm not blind to the need to increase airport capacity, particularly in the South East.
"We are acting now to make the best use of existing capacity - Gatwick is emerging as a business airport for London, under a new owner competing with Heathrow.
"But we need to retain our status as a key global hub for air travel, not just a feeder route to bigger airports elsewhere, in Frankfurt, Amsterdam or Dubai.
"Yes, this will be controversial. We will need to take decisions for the long-term - and we will be bringing forward options in our aviation strategy which will include an examination of the pros and cons of a new airport in the Thames Estuary."
Last week, Sir Richard Branson, owner of Virgin Atlantic, called for a third runway to be built at Heathrow and said it was better to expand Heathrow than build an airport in the Thames Estuary.
He said a Thames Estuary airport could take 20 years to build and added: "In the meantime, Great Britain comes to to a full stop because there is no more capacity at Heathrow, Gatwick is pretty well full, and much of the business is now going to France and Germany."
Plans for a third Heathrow runway were scrapped two years ago.
Transport Secretary Justine Greening is expected to announce a new airport capacity review this month.