Concern over funding for upkeep of England's cathedrals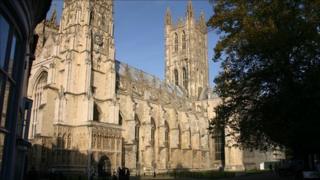 The people who run England's cathedrals have told of their worries about the cost of maintaining them.
BBC research found that representatives of almost half who responded to a survey were concerned about meeting running costs in two years' time.
All 63 Anglican and Catholic cathedrals were contacted, with responses gathered from 53.
Worries raised by 24 of those who took part included a lack of public donations and grants.
Plea to visitors
But despite financial concerns of those that responded, only nine of the cathedrals charge a mandatory entrance fee.
Durham Cathedral does not charge for entry but asks visitors to make a £5 donation towards running costs of £60,000 a week. But despite the request, on average visitors donate 32p each.
The Very Reverend Michael Sadgrove, Dean of Durham, said: "That [the average donation] doesn't compare very favourably with the £5 that we ask for and which we really need.
"My plea to visitors is 'Please be as generous as you possibly can. If you love this cathedral as a result of visiting it then be generous. Take a share in caring for it'."
He said they had discussed the idea of charging for entry "many times" but the chapter felt the cathedral was a public place that people should have free access for prayer and worship.
"We want to make this cathedral financially sustainable by any other route that we can and so our position is we do not intend to charge for admission at present," he said.
The Very Reverend Vivienne Faull, Dean of Leicester Cathedral and chair of the Association of English Cathedrals, said most cathedrals had to "scrimp and save" and rely on volunteers.
"I've never known a cathedral which thinks it's well-off," she said.
She added all cathedrals were nervous about their funding because in two years' time the three-year settlement from the Church Commissioners, who pay for some of the cathedrals' staffing and other discretionary costs, will run out and have to be renegotiated.
Harry Potter
But a Church of England spokeswoman said the three-year funding cycle, or triennium, provided security for cathedrals.
She said: "There are [financial] commitments until the end of 2013. Plans for 2014-16 will be determined over the next 12 months, but formal discussions on the criteria for grants to cathedrals for the next triennium have not yet been opened.
"Cathedrals are great shrines not only for worship but also for welcoming the modern pilgrim, and it is a responsibility as well as a privilege to consider mission and worship alongside the preservation of the heritage."
The Very Reverend John Guille, Dean of Southwell Minster, Nottinghamshire's Cathedral church, said they were getting more visitors but people were giving less.
He added: "If the Church Commissioners were not able to support us in the way they do now, staff would be made redundant and the accessibility of these buildings and the way they're used by the community would be seriously at risk."
Not all cathedrals are struggling though.
Father John Flynn, from the Roman Catholic St John's Cathedral in Salford, said about 20% of its running costs were covered by Sunday voluntary collections, with the rest coming from the Diocese of Salford. The cathedral does not charge an entrance fee.
He said: "[We are] not worried at all, because the diocese is responsible for the upkeep of the cathedral and it is the Bishop's cathedral so it is here to stay."
Some cathedrals have found alternative ways of generating revenue.
Christ Church Cathedral, in Oxford, along with the university college, was used as a location for the Harry Potter films.
The Very Reverend Christopher Lewis, Dean of Christ Church Cathedral, said: "People know some of the films are based and shot here and that's a big factor, particularly for a certain age group."
Mr Lewis said tourist numbers had been "steadily rising", with visitors up to 350,000, compared to 300,000 annually, three years ago.
In England cathedrals can obtain funding from a range of agencies including the Heritage Lottery Fund (HLF) and English Heritage.
HLF has awarded £46.18m to 103 cathedral projects across the UK, including Canterbury and Durham.
Although its budget has increased from £255m for 2011-12 to £375m for 2012-13 - in part because of buoyant lottery ticket sales - the number of applications for grants has also risen.
Katie Owen, spokeswoman for the HLF, said: "At our last grant announcement in January we had requests totalling £27m and gave out £10.3m so we were 2.6 times oversubscribed."
English Heritage has seen the amount it has to give out in grants reduced from £25.9m in 2010/11 to £15.4m in 2012/13 as a result of government budget cuts.
But in a 2009reviewit said England's cathedrals were in a good state of repair with most critical work completed.
A spokeswoman said: "Cathedrals are aware that English Heritage grants are only for urgent repairs and, while many are constantly needing to spend money on maintenance, improvements or redecoration, most of their major urgent repair work has been done."
Timothy Walker, Third Church Estates commissioner, chairs the committee looking after cathedrals and he said: "We're very well aware how important the commissioners' money is for very many cathedrals.
"We certainly wouldn't make any changes without full consultation.
"At the moment we don't have any plans for making drastic changes."