MP applauds Sir Richard Branson in Heathrow third runway call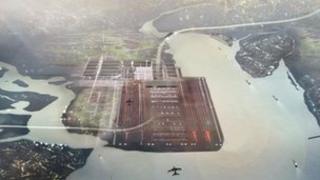 A Kent MP has welcomed Sir Richard Branson's comments that it is better to expand Heathrow than build a new airport in the Thames Estuary.
Sir Richard, who owns Virgin Atlantic, said more airport capacity was urgently needed.
Plans for a third runway were scrapped two years ago and an airport in the Thames is now being considered.
Gordon Henderson, who represents Sittingbourne and Sheppey, said the plan was "barmy".
The Conservative MP said: "I'm delighted that someone so high profile agrees with those of us that think that it's a barmy idea and uneconomic.
"Whilst he wasn't ruling it out, in practical terms [Sir Richard said] it wasn't feasible.
"And more importantly what he was saying was that it's plainly clear that if they built a hub in the Thames Estuary you would have to close Heathrow.
"This would mean people that work at Heathrow would have to move to the new airport and that would cause all sorts of logistical problems."
Sir Richard said building an airport in the Thames could take 20 years.
In an interview with BBC South East, he said: "In the meantime, Great Britain comes to a full stop because there is no more capacity at Heathrow, Gatwick is pretty well full, and much of the business is now going to France and Germany."
Transport Secretary Justine Greening is expected to announce a new airport capacity review later this month, including the possibility of a new airport on reclaimed land in the Thames estuary.