Drought order extension request for Bewl Water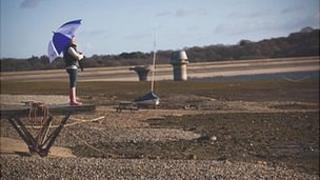 A water company has applied for a one-month extension to a drought permit to help refill the South East's largest reservoir.
Southern Water already has consent to take water from the River Medway, in Kent, to top up Bewl Water on the Kent and East Sussex border until March 31.
The firm has asked for this to be extended to April 30.
Homes across the South East face a hosepipe ban by Easter due to the dry conditions.
Nearly two billion litres of water have been pumped into Bewl since the permit was granted and the reservoir now stands 47% full.
But at this time of year it should be at 90% of its capacity of 31 billion litres, the company said.
Meyrick Gough, Southern Water's planning and strategy manager, said: "If we continue pumping into Bewl until the end of April, it will make a real difference to the reservoir level, particularly if we see some rain over the next few weeks.
"It is essential that we get more water into Bewl ready for the summer.
"We don't need it to be completely full but ideally we'd like it to reach levels of 70% by the end of April."