Thorpe Park rollercoaster Swarm stops, leaving people stuck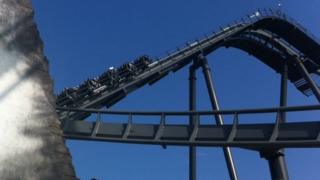 A new rollercoaster came to a halt at Thorpe Park theme park, leaving visitors stuck halfway up a steep ascent for several minutes.
The Swarm ride was in its first day of operation at the Surrey theme park.
An onlooker said people were left sitting and waiting while loudspeaker messages reassured them they were "perfectly safe".
Thorpe Park said a small problem led to the system shutting down but it was back up and running within minutes.
'Most extreme ride'
A spokesman for the attraction near Chertsey said: "The Swarm is a sensitive piece of equipment and a small problem resulted in the fail-safe system shutting it down. Health and safety is our main concern.
"Our engineers were on site to rectify any teething problems. It was back up and running within minutes.
"Ride staff let the guests know the ride was unavailable."
The spectator who spoke to BBC News, a 39-year-old from Crawley, West Sussex, said: "It came to a halt with all the people on it halfway up the climb. It got stuck with all the guys on it for about five minutes or so, possibly more.
"The people just stayed there waiting. There was someone on the Tannoy telling them they were perfectly safe."
Thorpe Park launched the Swarm, described as Europe's tallest winged roller coaster and the park's "most extreme ride to date", earlier on Thursday.
Winged rides have a seating arrangement in which people are positioned on either side of the track with nothing above or below them.
The Swarm is described as taking riders through five extreme inversions and "gut-wrenching near misses".
The "apocalyptic devastation" theme of the ride, which includes scenes of plane wreckage, was criticised last year by the British Airline and Pilot Association as "tasteless".