Norwich catholic cathedral: Tourist venue and 'sacred space'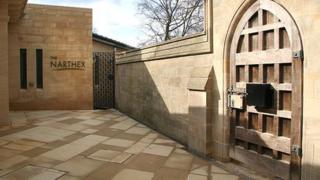 St John the Baptist in Norwich is a traditional place of worship with a new elaborate building called a narthex built alongside to house a shop, restaurant, exhibition area and function rooms.
Over the past five years about £1m has been spent on the cathedral, including building the narthex - the large entrance area - and a new lending library inside the nave.
It is now a regular attraction for the large numbers of tourists from across the world that visit the city.
Dean Father James Walsh said the cathedral was the "shop-front" for the Catholic diocese in East Anglia.
However, he said the cathedral's "wow factor" remained more traditional.
"People come to the cathedral because it is a place of prayer and for many visitors this is a first encounter," he said.
"It offers an open space for the exploration of faith itself and its relationship with the contemporary world."
The cathedral is also a centre of civic celebration and Jeremy Hook, a recent Lord Mayor, held an ecumenical service at the cathedral to mark taking office.
Zumba sessions
"Norwich Rugby Club holds its Christmas carol service here and local charities, such as the Big C, hold events and services at the cathedral," Fr Walsh said.
"This makes the cathedral a significant element in the community."
The cathedral is an important port of call on Norwich's tourist trail and guides point to the history and beauty of the building.
However, Fr Walsh said it was important visitors realised the cathedral was not a museum.
"It is a place of prayer, quiet meditation, solitude and a sacred space," he said.
"This needs to be safeguarded and the cathedral would be surely missed if it did not fulfil this role.
"Yes, the narthex holds Zumba sessions, exhibitions and other events as well as cultural evenings put on by the diverse parish community.
"People from Ireland, India, the Philippines, Poland, South America and many other parts of the world are part of our parish.
"But it is also the entrance to the mother church of the diocese where hundreds of people from across East Anglia come to events such as the Chrism Mass in Holy Week when the oils used in services throughout the year are blessed and distributed.
"The cathedral also hosts an annual day of celebration of marriage and family life in June and many other events.
"This helps people from across the region to look beyond their own parish boundaries to a wider Catholic church."
The dean said they also had to cater for "casual visitors" who often represented a wide range of backgrounds from all parts of the world.
"Some come to explore that spiritual need while others are here out of curiosity," he added.
"That shows what a wide range of roles the cathedral has to fill."