South West Water bills: MPs approve annual £50 cut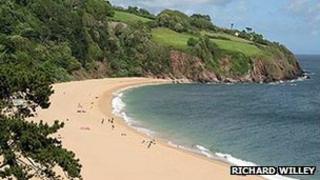 Water bills in the South West - currently the highest in the country - are to be cut by £50 a year from 2013.
Bills in Devon, Cornwall and parts of Somerset and Dorset, are about £150 higher than the national average.
Now MPs have agreed to legislation will mean a £400m government subsidy for South West Water (SWW).
Before that, however, charges will rise by an average of 4.7% next month - which will take a typical annual bill for SWW customers to £543.
Earlier the Water Industry (Financial Assistance) Bill was given an unopposed third reading in the House of Commons and will not be amended in the Lords.
'Historic injustice'
Environment minister Richard Benyon said: "We wanted to get on with funding South West Water to enable to cut bills for its household customers."
The move was welcomed by shadow Environment Secretary Mary Creagh, who said the bill "corrected a historic injustice" for water customers in the South West.
The £50 cut follows a review by senior civil servant Anna Walker into the affordability of water and sewerage charges.
Since privatisation in 1989 SWW bills have risen steadily to help pay for Operation Clean Sweep - a £2bn investment programme to improve beach water quality and revamp the region's sewage system.
Even though SWW customers make up only 3% of the population, they have been paying for the upkeep of 30% of England's coastline.
When the reduction was first announced in November last year, the Consumer Council for Water described it a "right and respectable" and would help customers who have been struggling to pay their bills.
The council has said an estimated three out of 10 are in "water poverty" - with bills costing more than 3% of their income.