East Midlands Ambulance Service to miss response target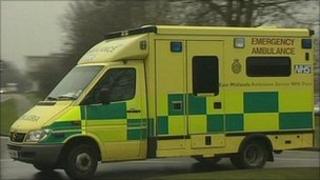 The East Midlands Ambulance Service (EMAS) has admitted it will miss a critical annual response time target.
Managers said the service would not meet the requirement to have a double-crewed ambulance on site within 19 minutes in 95% of cases this year.
They pointed out EMAS has seen a 12% increase in the most serious category of emergency calls.
Unions said moving the patient to hospital as fast as possible was critical to achieving good outcomes.
The trust is one of only two in England failing to reach the 19-minute target.
'Clock-stopping mentality'
But managers said they were confident of meeting the second target of having a clinician on the scene of a life-threatening condition within eight minutes 75% of the time.
Currently the trust reaches the eight-minute target 75.2% of the time, and the 19-minute target 92.4% of the time.
EMAS director of operations Pete Ripley said they were focusing on next year for wider improvements.
"We are working with partners on a review of demand and a review of resources, so we have the resources in the right place.
"We are working with the acute hospitals to make sure we can hand the patients over as quickly as possible so crews can be available again."
Jonathan Fox, from the Association of Professional Ambulance Personnel, said clinical outcomes were the most important factor.
"It is all well and good getting a solo responder to the scene within eight minutes but if that isn't backed up by transport to take them to specialist care, it misses the point.
"We have to get away from the clock-stopping mentality - for example you should be getting stroke patients to specialist care within 60 minutes and that is compromised if you can't guarantee an ambulance within 19."