'Hair-in-hand' killer Danilo Restivo allowed appeal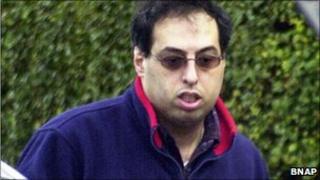 A killer who mutilated a Dorset mother before leaving someone else's hair in her hand has been given the right to challenge his whole-life jail sentence.
Danilo Restivo, 39, was told last year he would never be released from jail, following the 2002 murder of his Bournemouth neighbour Heather Barnett.
Mrs Barnett was bludgeoned with a hammer before having her throat cut.
Restivo has been told he cannot appeal against last June's conviction at Winchester Crown Court.
Since the conviction, Restivo has also been found guilty of murdering 16-year-old Elisa Claps in Potenza, Italy, in 1993.
'Damaged individual'
He was given a 30-year term for the killing by an Italian court in his absence in November.
Speaking about Restivo's sentence for the murder of Heather Barnett, her sister Denise Le Voir said: "The judge took the line that this was actually not just the first murder but one of perhaps more, perhaps a serial murderer, and therefore he felt that a whole life, meaning Mr Restivo would never come out of jail, was appropriate.
"We were really quite relieved at that because both ourselves and the Italian family of Elisa Claps who was murdered before my sister were very clear that he was a very dangerous man and that Mr Restivo should never again be out in public.
"I think that spending the rest of his life in prison is exactly the right sentence for Mr Restivo.
"I don't think he would ever be able to return to normal society.
"He seems to be a very damaged individual who saw himself as the victim and really didn't accept the absolutely horrendous injuries that he subjected both my sister and Elisa Claps to."