Rise in shisha bars in East Midlands prompts health warning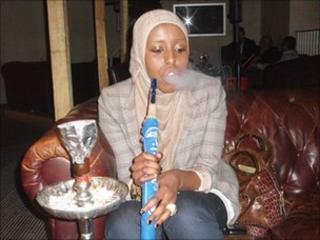 The British Heart Foundation is warning about the dangers of shisha smoking as figures suggest the practice is rising in the East Midlands.
The number of known shisha bars in Leicester has risen from six in 2007 to 20 in 2012, while Nottingham has seven and Derby has four.
Outside of London, Manchester is the only major UK town or city to have more shisha bars operating than Leicester.
But the owner of one Leicester bar said it was only as harmful as cigarettes.
'Need to socialise'
The owner, who asked not to be named, said: "I'm not going to say it's good for you because I would be lying but it's something that people do.
"A lot of people who don't drink come to shisha. You can't go clubbing because you can't drink so you need to socialise."
He said that people do not smoke shisha continuously, which reduces the risk.
"You are smoking with other people and you are talking at the same time," he said.
"The customers vary from students to young professionals to adults. We have people from Saudi and Dubai. It's their tradition to smoke."
Leicester's Primary Care Trust raised concerns about shisha smoking last March, with GPs in the city saying they had seen an increase in teenagers with related health problems.
Shisha cafes have to comply with smoke-free legislation but Leicester City Council is worried some are being set up illegally.
Regulation and control
Councillor Sarah Russell, assistant city mayor responsible for neighbourhood services, said: "We are very concerned about the increase in shisha cafes in the city.
"Just being inside the room during a shisha smoking session is equivalent to smoking 150 to 200 cigarettes.
"This is incredibly harmful to people's health, and along with other agencies in the city we are looking at what we can do locally to regulate and control them."
In the East Midlands, 9% of adults surveyed by the British Heart Foundation thought there were no health harms from using shisha, while only 40% knew that shisha could contain tobacco.
The charity obtained the shisha bar figures by submitting freedom of information requests to all 33 London boroughs and 100 local authorities in other major towns and cities across the UK.
They asked the councils how many shisha bars they were aware of in their areas - meaning the true figure could be more.
In the East Midlands, seven local authorities were asked.
All of these, excluding Leicester, were not aware of any shisha bars in 2007.
In 2012, there were still none known of in Lincoln, Daventry or Wellingborough, while one was known of in Northampton.