London riots: No murder charge over Richard Bowes death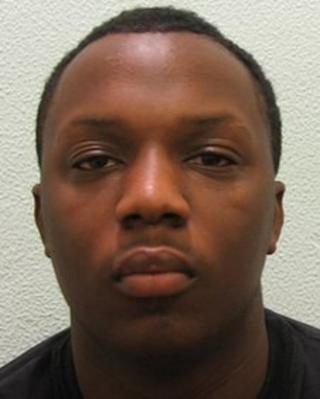 The prosecution in the case of the death of a pensioner during the London riots has accepted a guilty plea of manslaughter by a 17-year-old boy.
Darrell Desuze, of Bath Road, Hounslow, pleaded guilty to the manslaughter of Richard Mannington Bowes on Monday.
Mr Bowes, 68, was punched and fell to the ground as he tried to stamp out a fire in Spring Bridge Road in Ealing, west London, on 8 August.
He suffered brain damage when his head hit the pavement.
An order banning the identification of the teenager was lifted at Inner London Crown Court.
Desuze had previously admitted burglaries on the day of the crime at William Hill, Tesco Express, Blockbusters and Fatboys Thai restaurant.
'Catastrophic brain injuries'
The court heard Mr Bowes was taken from the scene near his home in Haven Green, Ealing, but was pronounced dead in hospital.
Mr Justice Saunders said in terms of consequences, it was the most serious crime committed during the riots and the public had a right to know what happened and who killed the retired accountant.
Desuze, who a year before the riots went on a school trip to the Metropolitan Police's riot training centre in Gravesend to watch a simulated riot, still faces a charge of murder but the Crown will not pursue it and it is expected to lie on file.
Brian Altman QC, prosecuting, said on the evening of the killing Desuze, known as Smokey, set off for Harrow with friends.
They headed to Ealing after getting a text from someone anticipating trouble there.
Desuze, wearing sunglasses and a distinctive top saying "Robbers and Villains", was caught on camera kicking in the glass doors of a shopping centre before joining a mob that attacked police with missiles around Spring Bridge Road.
Mr Altman said: "But one thing distinguished him from the others. He killed Richard Bowes, an entirely innocent local resident who had intervened to extinguish flames and prevent a fire in one of the bins."
The barrister said left-handed Desuze threw his full weight behind a punch to Mr Bowes's jaw, buckling his legs, knocking him unconscious and backwards where his head took the full force of impact on the road.
The police were "simply unable to reach Mr Bowes for some minutes because of the violence against them," said Mr Altman.
After walking off, Desuze returned to the victim and moved him on to the pavement.
"If it was concern for what he had done, it was short-lived," said Mr Altman.
"Instead of calling an ambulance or summoning any of the policemen around, he was in minutes rejoining the riot."
Mr Bowes sustained "catastrophic brain injuries" and never regained consciousness.
Desuze's mother, Lavinia Desuze, 31, will stand trial on Monday accused of perverting the course of justice by destroying the clothes her son wore on the night of the killing.
She appeared at court and chose to stay in the dock with Desuze after her case was adjourned.
Desuze will be sentenced next month after pre-sentencing reports have been completed.
Speaking after the hearing, Det Ch Supt Andy Rowell said: "Mr Bowes was out on the street where he lived trying to do the right thing and paid a terrible price for doing so, leaving his friends and relatives devastated by the loss.
"Although of little comfort, those that knew him can be justifiably proud of his sense of right and wrong, and his bravery in challenging the behaviour that he witnessed that night."