Exeter 'among best for new firms' says Experian report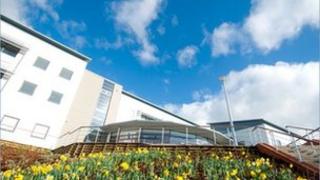 Exeter is in the top 10 in England for businesses that show high potential, according to research commissioned by the BBC.
Nearly 1,000 companies out of 7,345 in the area show high growth potential, the BBC Local Growth Research by Experian shows.
Exeter Business Innovation Centre, a base for 55 firms in the city, is host to some of the most upwardly mobile small firms in the country.
The Innovation Centre offers advice and help through mentors, but firms on the site can also tap into assistance from Exeter and other universities in the region through the Setsquared initiative, like a club for companies to share information.
The Exeter Initiative for Science and Technology, founded by Exeter Chamber of Commerce and Industry, also supports science and technology firms.
Firms at the Innovation Centre site include Crowd Cube, which launched in February 2011 and has raised more than £2.5m for start-up firms via its website.
Crowd Cube, which employs six people, invites start-up firms to pitch for investment on the website, like a virtual Dragons' Den.
Luke Lang, 33, who launched the website with Darren Westlake, 42, said: "We were entrepreneurs, so we have experience of how difficult it is to raise finance, including for Crowd Cube itself.
"Our view was that there was a funding gap for early stage investment.
"Dragons' Den was part of the inspiration, but instead of pitching to Deborah Meaden and Peter Jones you pitch it to armchair dragons."
Crowd Cube has about 12,000 members and has funded 14 pitches on the site.
Anyone making a pitch has to fulfil criteria on business plans and forecasts.
Mr Lang said the Innovation Centre had been a "big help in the early days".
"They were able to introduce us to people and support networks that have given us a really firm foundation to take the business forward," he said.
"The facilities are first class and there is a real vibrancy about the place."
The firm has recently raised £300,000 via the website for itself.
He said: "We want to use the money to build the brand and the company."
Fantasy Shopper, an online social game that allows users to collect outfits for virtual money, compare and chat about them with online friends and then buy them, was established four months ago in the Innovation Centre.
Co-founder, Exeter University graduate Chris Prescott, said: "The idea of Fantasy Shopper actually came to me in a dream.
"I instantly knew it was a great idea."
He met co-founder Dan Noz at a party in 2010, and immediately saw its potential.
Mr Prescott said: "Starting Fantasy Shopper has been a roller coaster, but a highly exciting one.
"We are consistently working 90-100 hours each week to ensure the product we are creating is the best it could possibly be for our users, and for ourselves."
Three months ago the site became the first non-US company to win the Amazon Web Services Start-Up Challenge and a $100,000 (£63,775) prize.
In January, it secured £3.3m investment from global equity growth firm Accel partners and venture capital firm New Enterprise Associates.
He said: "Exeter is my home city and I am keen to grow the business here, although attracting suitable talent and investor pressure to relocate to the US make this an ongoing struggle."
The Innovation Centre was created in 2000, but took a big leap forward with the creation of a new building in 2007.
Director Robin Jackson said: "For such a small city we seem to have an awful lot of talent.
"I would love to say it is the Innovation Centre that is responsible, but it is really the individuals behind the firms that make a success of their ventures."