Vince Cable admits North East may need extra investment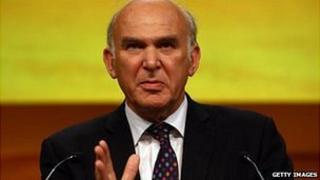 The Lib Dems have left Gateshead then - though not before spring conference delegates gave their leadership a bloody nose on NHS reforms.
There was one fringe benefit for me of their visit to Tyneside, as I got a full half hour to quiz Business Secretary Vince Cable on a host of issues highly relevant to the North East.
Sadly, there's no filmed record of the event as I was purely acting as the chair of a meeting organised by the Newcastle-based think tank IPPR North.
But it did allow me to pursue a lot more issues than I could normally rattle through in a short TV interview.
Rising unemployment
I started by asking about the government's aim of rebalancing the economy.
Could he really say that was working when the North East has seen a steeper rise in unemployment than other parts of the country?
Dr Cable told me that the North East was still wrestling with historic problems, but he was prepared to admit that the region was always more likely to be affected by cuts given its dependence on public sector jobs.
He insisted those cuts were unavoidable, but said the money North East businesses were getting from the Regional Growth Fund would help improve its prospects.
He said there were grounds for some optimism given the investment by Nissan in Sunderland and record export figures.
But he also believes the extra powers for councils could help change the region's fortunes.
There were regrets though. He accepted that regional development agency One North East had done good work, and that there had been a case for keeping it, even if the other RDAs had to bite the dust.
He also said he had expected the North East to work together by forming one Local Enterprise Partnership (LEP) as a replacement for One North East.
Instead, he said there had been problems caused by Teesside's decision to go it alone. He said that had held back the work of the North East LEP in particular.
But he was now confident it was beginning to work well.
Advocacy role
He also believed the North East should now regret not voting for a regional assembly.
He pointed to the example of Alex Salmond in Scotland as a politician who had real influence because of the democratic mandate he has from a devolved parliament.
He believes an assembly would have been in a position to act as a strong advocate for the North East and could have campaigned gradually for more powers.
The government believes elected mayors are a better solution in England, but Dr Cable told me he personally preferred the conventional council structure of a leader selected by the controlling party.
He believes the North East can achieve more by working together rather than relying on mayors, whether as councils or in the Local Enterprise Partnerships.
I also got the chance to ask him about the decision to put the HQ of the government's new green investment bank in Edinburgh rather than the North East.
It was a decision that was heavily criticised by local authority leaders and Labour MPs in the region, as Sunderland, Teesside, Newcastle and County Durham had all tabled bids to be the bank's home.
In the end all four failed to even make the last 11 in the selection process, even being beaten to the shortlist by places such as Peterborough and Milton Keynes.
Vince Cable said he had been surprised by how many bids had been submitted (32 in all), as he had only expected a handful.
He told me London had come out top in the assessment, but he had decided that it would not be acceptable to place the HQ there, so chose the city that had come out second - Edinburgh.
It seems the North East didn't stand much of a chance because it didn't have enough expertise in financial services.
Transport investment
One area where Dr Cable was prepared to admit there was a potential problem though was in transport investment.
IPPR North recently crunched the numbers for the infrastructure spending contained in the Chancellor's Autumn Statement.
It found the south was getting far more government investment than the north.
That's perhaps inevitable given that some of the biggest projects - underground upgrades, Crossrail, and Thameslink - are based in London and the South East.
But even after you remove those from the figures the South East is still getting £276 per head in infrastructure spending compared to just £5 for the North East.
The Business Secretary said the North East's local enterprise partnerships would be able to bid for extra money for transport, but he admitted the pots of money weren't big.
He was prepared to admit then that there could be a problem, and a potential case for greater investment in transport in the region.
There was one policy though he said he wouldn't support - the idea of regionally-negotiated public sector pay.
He said it would be wrong for all teachers or nurses in the North East to be paid less than their equivalents in the South East. He said that would stigmatise the region.
But he said it was worth looking at whether there could be any benefit from more locally negotiated public sector pay.
For example, he said, you could allow a school to pay staff more in areas where it was harder to recruit.