Midlands wish list for Chancellor as Budget day nears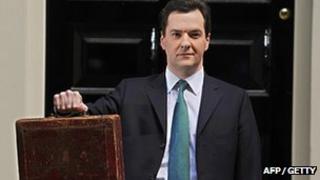 "You can please some of the people all of the time, you can please all of the people some of the time, but you can't please all of the people all of the time."
The words of the poet John Lydgate were famously modified by President Abraham Lincoln who replaced the word 'please' with 'fool'...
But George Osborne could well struggle to please ANY of the people ANY of the time, as he prepares to deliver his Budget next week.
Or to fool them for that matter!
Fuel duty
Business is pleading for August's planned 3p a litre increase in fuel duty to be scrapped.
Road haulier Andy Boyle from Ledbury in Herefordshire tells the BBC he is now a reluctant "fuel millionaire" - his bill for diesel now costs him £1million a year, one quarter of his annual turnover.
But the Chancellor has already postponed this latest increase once, so he may feel he has to resist the blandishments of his own backbenchers like the Conservative MP for Stone, Bill Cash.
He told last week's Sunday Politics that: "It would be ironic if a Budget aimed at growth were itself to inhibit that growth by adding to the burden of fuel duty."
The opposition's alternative, recommended by the Shadow Business Minister and Labour MP for Birmingham Ladywood, Shabana Mahmood, would be a temporary cut in VAT on fuel to offset the 3p duty increase.
Pleas from business leaders, which I suspect may be more likely to find favour with the Chancellor, include a significant cut in Corporation Tax and a targeted reduction in employers' National Insurance contributions which many West Midlands firms describe as "a tax on jobs".
Both measures may appeal to him because they may at last succeed in triggering growth and job creation in areas like the West Midlands where they are needed most, if the government is to succeed in its mission to "rebalance the economy."
Business confidence
The surprise twist here is that it's not a general shortage of cash among local firms that's holding back investment in new job creating ventures.
I was speaking to some leading Midlands bankers recently: I'm not proud!
To my surprise they agreed most of their corporate accounts looked very healthy indeed. The problem was a general lack of business confidence.
The West Midlands chairman of the Institute of Directors blames the government itself for the absence of any general sense of a 'feelgood factor'.
John Rider says markets are being destroyed because of "stop-go" business policies which he describes as the "economics of the madhouse".
Solar energy, for example.
He says a sector which had been thriving had now "been brought to its knees" by the government's proposal, currently being fought over in the courts, to cut feed-in tariff payments by more than half.
But it's not all gloom and doom.
The Ludlow Food Centre in Shropshire has capitalised on the town's enviable reputation as a gastronomic hot spot. It has doubled its workforce to over 100 in the space of five years.
The centre's managing director, Edward Berry, says the message to government is that it must "champion the entrepreneurial spirit of distinctive local businesses".
He is especially keen to see continued encouragement for apprenticeships.
(The Business Secretary, Vince Cable MP, never misses a chance to point out that apprenticeships in the West Midlands have doubled year-on-year since the coalition came to power).
The centre employs its own cheese-makers and butchers whose meat is all sourced from farms within a five-mile radius.
Our economy
As Budget day approaches, we have a range of special programmes right across our BBC television, local radio, and online output in the West Midlands.
I will be joined on this week's Sunday Politics at 12.00 on BBC One by the Conservative MP for Bromsgrove Sajid Javid, who as George Osborne's Parliamentary Private Secretary, acts as the 'eyes and ears' of the Chancellor.
Also with me will be the Independent MEP for the West Midlands region, Nikki Sinclaire.
And then on Monday evening at 23.05 also on BBC One, Mary Rhodes presents Our Economy: the Midlands Today Debate.
She will focus on the challenges facing our region in the company of some of our heaviest-hitters including:
* Sajid Javid, MP for Bromsgrove (once again);
* Liam Byrne, the Shadow Work and Pensions Secretary and Labour MP for Birmingham Hodge Hill;
* John Hemming, the leader of the Liberal Democrats in the West Midlands and MP for Birmingham Yardley;
* former Trade Minister, Lord Digby Jones;
* former BBC Apprentice candidate, Kate Walsh.
And then of course, I will be reporting live from Westminster on Budget day itself next Wednesday during Midlands Today . Our programmes will have extended coverage of the Budget right through from Breakfast, to 1.30pm, 6.30pm and 1025pm.
Follow me on Twitter: PatrickBurnsBBC