Campaigners on HS2 protest walks in Warwickshire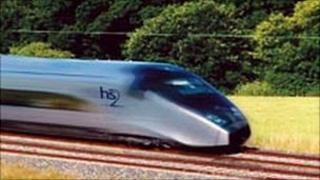 About 100 people have walked along part of the planned high speed rail (HS2) route in Warwickshire calling for it to be scrapped.
The first phase of HS2, between London and Birmingham, is scheduled to be running by 2026, after the project was approved by the government in January.
Protesters met at Burton Green Village Hall which they claim faces demolition along with about 30 homes there.
The government said the line was needed to link cities and boost the economy.
Transport Secretary Justine Greening said the scheme would create "jobs, growth and prosperity".
The protesters had organised the walks to mark the second anniversary of the government unveiling the project.
Wayne Quinlan, landlord of the Kings Head pub in Cubbington, said he had joined one group near the village because the line would cut through an area of "natural beauty".
"People who live in the houses by the woods there - their homes are going to be totally wrecked by it," he said.
The line will first connect London to Birmingham, passing through rural parts of Buckinghamshire, Oxfordshire, Northamptonshire, Warwickshire and Staffordshire.
The second phase of the £33bn project will be extended to northern England.