Rape accused's anger at DNA blunder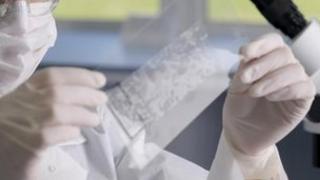 A Devon man wrongly accused of raping a woman in Manchester has spoken of his anger over a DNA mistake which led to the charge.
Charges were dropped against the man when it emerged that a DNA sample was contaminated in the laboratories of Teddington-based LGC Forensics.
The man also said he hoped that the real rapist would be caught.
LGC Forensics said it deeply regretted that forensic evidence was contaminated in one of its laboratories.
'Justice for victim'
The man, who was facing a trial accused of raping the woman at Plant Hill Park, Blackley, in October, said: "I am relieved that I have been found not guilty. But then I always was not guilty."
He added: "I am angry that I was falsely accused. I am angry about the amount of pain it has put me and my family through.
"I sincerely hope that justice comes for the victim and that the true rapist is caught."
His solicitor Philippa Jeffries, who called for a public inquiry, said the man is considering legal action.
She said: "It would appear our client's DNA was never present in the sample taken from the rape victim.
"As such our client was never implicated in this offence until his DNA was introduced to the victim's sample whilst being processed at their laboratory in Teddington.
"We remain fearful for any defendant indicted on DNA or other scientific evidence that has been processed, is being processed or will be processed through LGC's laboratory."
Greater Manchester Police (GMP) is reviewing some cases in which the same company processed forensic evidence.
'Tragic incident'
GMP Assistant Chief Constable Steve Heywood said when the man was arrested he was "absolutely adamant that he had never been to Manchester so that gave us some concern".
Mr Heywood added: "We went back to the supplier who was absolutely adamant that this was not the case so we charged the man with Crown Prosecution Service support.
"This week we were contacted by the supplier who said unfortunately the sample was contaminated."
Mr Heywood said he believed this was "a tragic but isolated incident".
A statement from LGC Forensics said: "LGC has already identified the cause of this contamination and has taken steps to ensure that it cannot happen again.
"Our procedure for tracking, identifying and reporting potential contamination will be immediately reviewed and updated."
The firm declined to reveal the circumstances surrounding the mistake.