Sir Malcolm Arnold's carer wins battle on final music score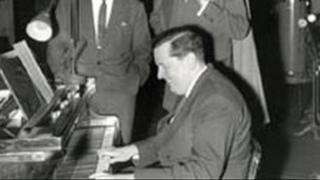 A carer who looked after the composer of the music for the Bridge On the River Kwai has won a High Court battle over his final work.
Anthony Day cared for Northampton-born composer Sir Malcolm Arnold for 22 years until his 2006 death.
A letter granted him the manuscript for his 9th symphony saying it would not have been produced but for his care.
The family challenged this, but Judge Charles Purle QC disagreed and awarded the score to Mr Day on Wednesday.
Regained creative 'spark'
Mr Day, 60 - who never took a day off work - was also granted 22 years' holiday pay amounting to £62,500.
The composer's family, represented by daughter Katherine, 60, and son Robert, 57, must pay Mr Day's court costs of £140,000.
The case revolved around what should be included in the composer's will as some manuscripts from the 1960s and 70s had already been given to his daughter Katherine.
The judge decided that the composer had never made a gift of the bulk of his manuscripts to his children and he recognised the wish to make a gift of the last scores to Mr Day.
The case was further complicated by Mr Day's appointment as an executor of the composer's will, so the judge granted a further appeal.
The family are now to decide whether to take their challenge to the Court of Appeal.
Sir Malcolm, who died aged 84, composed hundreds of scores including the music for films such as the Battle of Britain and David Copperfield.
He also composed works for the stage including the musical Sweeney Todd and dozens of orchestra and choral works.
Sir Malcolm was an alcoholic living in a pub in Northamptonshire in 1984 when Mr Day "saved him from oblivion", the court had heard earlier.
The composer's children argued that he was subjected to "undue influence" over his will and claimed Sir Malcolm's collection, now held at the Royal College of Music, was given to them.
The composer had been made a ward of the Court of Protection when Mr Day stepped in, the court was told.
He was the neighbour of a distant relative and went on to live with and care for Sir Malcolm in Attleborough, Norfolk, where the composer said he regained his creative spark.
Sir Malcolm left much of his fortune to him when he died, including his home and a half-share of the royalties from his work.
The remaining estate was split equally between Robert and Katherine Arnold, the court heard.