Jobs go as Chapmans Furniture shops close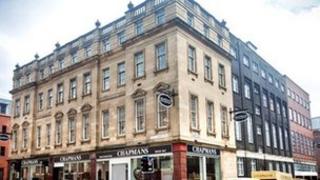 Chapmans Furniture has announced it is closing after being in business for 165 years, with the loss of 49 jobs.
The firm has stores on Market Street in Newcastle and on Victoria Viaduct in Carlisle, and employs 49 people across the two shops.
The owners said it was a "sad and a very emotional outcome" but they had decided to have an "orderly closure".
A closing-down sale will start in April, with the two shops shutting in September.
John Chapman, Managing Director, said: "The orderly closure is a very sad and a very emotional outcome, however, given all the circumstances, we feel it is in the best interests of all involved.
"This is categorically not a liquidation. The reason for closing is that, with our leases expiring, we have researched and considered the huge additional costs we would incur, together with the fact that the current tough trading conditions look set to continue for some considerable time to come, it sadly is just not sound business sense for us to try to continue trading."
Chapmans was established in 1847 by Hedley Chapman in North Shields.