Chelsea Ladies FC to play at Staines Town ground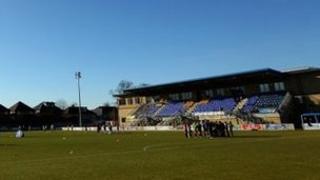 A top level women's football team that trains in Surrey are to start playing their matches in the county.
Chelsea Ladies FC will be based at Wheatsheaf Park at Staines Town Football Club, after a partnership was launched between the two clubs.
Their first game takes place on Sunday against Brighton & Hove Albion, in the fifth round of the FA Women's Cup.
"We're really looking forward to playing at Staines Town this season," Manager Matt Beard said.
'Impressive stadium'
"The pitch at Wheatsheaf Park is always in a really good condition and it's an impressive stadium.
"We're hoping to build a strong fan base locally and thank them for their support by bringing some trophies home this season."
The team currently trains at Chelsea's Premier League football club training ground, in Cobham.
"Cobham has got a very high standard of training ground facilities," said player Claire Rafferty, who is from Kent.
"They've got all the high tech technology, they've got an indoor swimming pool - it's amazing.
"Even the academy building which we get to train out of is state-of-the-art. We are very lucky to be able to use that as well."
The Football Association (FA) have launched a new summer league, the FA Women's super League, for the women's teams which begins on 9 April.
"This allows us to play at different times to the men, so when they are out of season, we hope to get some of the people who go and watch the men's to come and watch us," said Ms Rafferty.
The team hopes to fill the 4,000 seater stadium for their first game at their new ground and for the start of the season.
Olympics hope
"We are trying to get as many people down there as we can - local teams, local school girls," said midfielder Dani Buet, who is also from Kent.
"We want to create an atmosphere - we want people to hate coming to play us there."
Both players have been asked to potentially play for Team GB in the London 2012 Olympics.
"We've been asked as well as many other girls up and down the country - there's a big bracket of players that have been asked," said Ms Buet.