Have fair and circus animals had their day?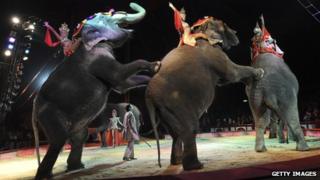 A town council in Shropshire is to discuss continuing a ban on goldfish being handed out as prizes.
Thehighlighted the issue of animals and their role in travelling shows.
It comes at a time when circuses face a ban on using wild animals after the government promised to outlaw the use of creatures such as tigers, monkeys and zebras in travelling circuses "at the earliest opportunity".
So have animals in fairs and circuses had their day?
In 2005 the then Labour government was poised to introduce a ban on goldfish being given as prizes.
The Animal Welfare Bill was expected to stop the giving away of goldfish as fairground prizes.
But pressreportsstated at the time that the legislation was amended to allow children to take away fish as prizes if they were accompanied by someone over the age of 16.
'Look forward'
A spokesman for The Department for Environment, Food and Rural Affairs (Defra) said the change had come about following consultation with the public and stakeholders such as animal welfare charities.
He said: "There were lots of proposals in the first draft of the Animal Welfare Act.
"With the support of the public and various stakeholders this was the act that was formed."
He added there were no plans to revisit the act.
But despite the lack of an outright ban local authorities can set their own rules on what is and is not acceptable on council owned land.
In Ludlow the town council is poised to uphold the ban following a request from a stall holder that it be lifted for the town's May Fair.
Jimmy Stokes, who wanted to offer goldfish as prizes, said that, under RSPCA guidelines, fish could be given away in plastic boxes with holes in, rather than plastic bags.
He said children "look forward" to winning goldfish on a fairground.
'Not cruel'
But Ludlow councillor Viv Parry said the ban, which was brought in two years ago after an anonymous complaint, was brought in because of concerns about the welfare of goldfish given as prizes.
The issue is set to be discussed at a meeting next week.
The RSPCA states on itswebsitethat it is opposed to the giving of live animals as prizes.
Katya Mira, spokeswoman for the charity, said: "We don't like to see them [animals] as throwaway commodities.
"People don't count them as sentient beings and they don't look into the welfare needs of that animal [if it is offered as a prize].
"We very much encourage people to research an animal's needs before they get one, whether that be a dog or a goldfish."
But she said she did not see the banning of wild animals at circuses as the same issue as animals being offered as prizes.
"I would be reluctant to link the two things. The welfare of animals is our primary concern.
"The reason we are so against wild animals performing in circuses is we are concerned for their welfare, how they are transported and the conditions they are kept in.
"It's been proven scientifically that it is very stressful [for animals to live in circuses]."
Stories about the proposal to ban wild animals in circuses prompted a flurry ofcommentson the BBC News site, with some in favour of the ban and others lamenting the loss of traditional circus shows with performing lions and tigers.
Those circuses that still use wild animals say the animals are well cared for and not treated cruelly.
Chris Barltrop, spokesman for the Great British Circus which still uses wild animals, told the BBC last year that there was no reason for cruelty to be involved in the treatment of circus animals.
He said if trainers were cruel to their animals it would be counterproductive in getting them to perform.
Public opinion
He added it was alarming that groups of people opposed to wild animals performing in circuses sought to impose their views on others.
But according to the RSPCA, public opinion has been against the practice for some time.
The charity estimates 35 wild animals including lions, tigers, snakes and zebras currently perform in three UK circuses.
Ms Mira said: "I don't think it's new that public opinion is against wild animals in circuses.
"The public have wanted a ban for a long time.
"Lions and tigers performing do not have a place in today's society."
No date has been set for a ban. But with the government promising a tougher licensing system until the ban is in place, the days of performing animals may be numbered.
And if local councils decide to implement their own bans on fish being offered as prizes, the goldfish prize may follow the performing lion into the history books.