Working as a World War II 'lumberjill'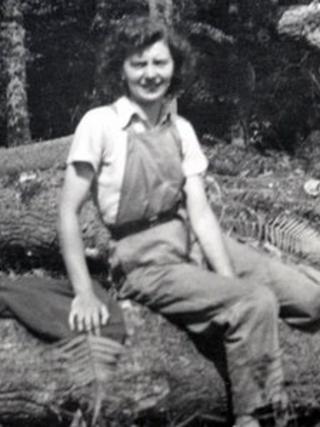 Logs falling on top of them, not bathing for weeks and not seeing their families for months on end - this was the lot of a wartime "lumberjill".
The year was 1941 and Ethel Oliver was keen to do her bit for the war effort.
The 18-year-old signed up to be a Land Girl but later switched to the lesser known Women's Timber Corps (WTC).
With the men away fighting for their country, thousands of women, like Mrs Oliver, volunteered to do backbreaking work in the UK's forests during World War II.
In the days before mechanisation and chainsaws, they used manual saws to chop down trees and load the timber on to trucks.
The logs were then made into telegraph poles, road blocks, pit blocks and even crosses to mark the graves of fallen soldiers.
Last year the Forestry Commission started a campaign to track down the "forgotten" women.
It published a photograph taken in 1941 in Jesmond, Newcastle, of a group of lumberjills and appealed for help to identify them.
'Archive memories'
The Commission especially wanted to hear from any surviving women or their families to make an archive of their memories, especially any who worked in Chopwell Wood, near Gateshead.
Mrs Oliver was not in the photo, but it brought back fond memories, and she got in touch with the project.
As a lumberjill, it was her job to measure the logs, peel off the bark and generally avoid being hit by falling timber.
Mrs Oliver, who spent nine months in the 900 acre (360 hectare) Chopwell Wood, said: "It was dangerous work - I remember once when the logs had been loaded on to a truck and them falling off on top of one girl.
"She wasn't badly hurt but she never came back.
"It was a busy place with trees being felled and charcoal burning going on.
"I was given training in the Lake District, learning how to measure and cut down trees and peel off the bark.
'Harsh winters'
"We also had to be able to identify the kind of tree by looking at leaves or the bark. It was hard work and I remember being cold during the harsh winters.
"If you could afford it you would go home at weekends for a bath, but transport wasn't great."
During her stint at Chopwell, Mrs Oliver lodged with a school caretaker, and cycled the few miles up the road to work every day.
She eventually finished her work in the forests of the North East in 1946, but said: "I loved being outside and the whole experience left me with very fond memories.
"After I finished the work, I was in a bit of dilemma because after such an experience I didn't fancy working in an office or shop."
Mrs Oliver eventually became an interior decorator, got married to husband Randall in 1951 and had two sons.
She still has photographs from the time, but has lost touch with her fellow-lumberjills.
The Forestry Commission, working with Groundwork North East and the Friends of Chopwell Wood, is trying to track down as many lumberjills as possible.
They want to record their wartime stories and experiences for an exhibition and online archive.
Joanne Norman, from Groundwork Northeast, said: "We have had a terrific response after publishing the photo.
"Thanks to the number of people coming forward we have made a start in putting names and stories to faces."
Anyone who served in Chopwell Wood has been urged to contact Ms Norman on 0191 567 2550.