London 2012: Holidays at home for 2012 campaign launched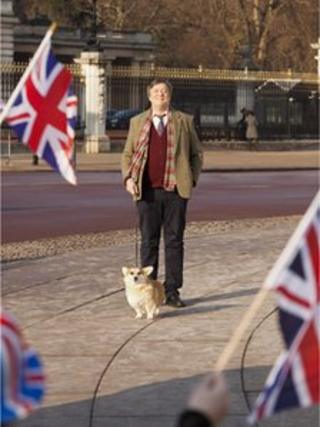 Britons are being encouraged to holiday at home during the Olympic and Diamond Jubilee year in a new campaign.
Culture Secretary Jeremy Hunt said it was the "perfect time to make the most of the UK" as he launched "Holidays at Home are Great" at the London Eye.
TV adverts and a discount scheme will encourage people to take a staycation.
The £5m campaign is being led by VisitEngland with the support of the tourist boards of Scotland, Wales and Northern Ireland.
Mr Hunt said: "2012 is going to be a year like no other in our history with the Diamond Jubilee celebrations and the Olympics.
"With so much going on, this is the perfect time to make the most of the UK and take your holiday, long weekend or short break here."
Actors Stephen Fry and Rupert Grint and actresses Julie Walters and Michelle Dockery will star in a television advert due to air on Thursday.
Fry asks the viewer "Why on earth" anyone would want to go abroad in 2012 while Walters attends a garden party in the Cotswolds.
Bondi to Bridlington
Dockery says you will not find rocks like those in Northern Ireland's Giant's Causeway on a beach in the Med while Grint asks why anyone would go surfing in Bondi when they could go to Bridlington Beach, in Yorkshire.
The advert encourages viewers to visit a website to access a minimum of 20.12% off accommodation, restaurants, attractions, events and transport.
In addition to the main advertisement, a series of additional 10 second destination adverts will be aired.
In return for £100,000, to be match funded by VisitEngland, Blackpool, Skegness, Yorkshire, Liverpool, will be showcased as part of the campaign.
James Berresford, VisitEngland's chief executive, said: "This is the largest domestic tourism campaign ever undertaken and aims to inspire UK residents to take advantage of the fantastic events taking place in the country this year.
"Now is the time to holiday at home - there is no comparison anywhere else in the world with what's on offer here in the UK this year."
Also being launched on Wednesday is a scheme to encourage Londoners working to 2012 Games travel "hotspots" to stagger their journeys home.
Organisations will offer deals to people working locally to encourage them to enjoy an evening out during the Olympics.
The participating companies outlined their offers at an event organised by Transport for London (TfL) and London 2012 for the capital's business community to discuss what they were doing to get "Games-ready".
Julian Bird, chief executive of the Society of London Theatre, said: "When the 2012 Games get under way, many employees in transport hotspot locations will be looking to re-time their commute and enjoy the festival atmosphere.
"To help, we will be providing them with reduced priced tickets to some of the best theatre shows around."