Tarquin the raven at Crowthorne sanctuary needs eye operation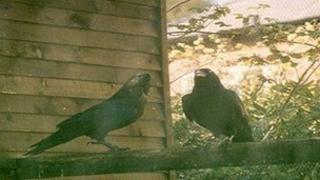 Found in Dorset in 1989 with a partially severed right wing and leg, and a missing right eye, Tarquin the raven was the first bird to be rescued at the Raven Haven in Crowthorne.
Since then he has fathered 30 "baby" ravens, and the Berkshire bird rescue centre has gone on to rescue thousands of birds, including pigeons and owls.
However, over the past three or four months, Steve Burns, the founder of the raven sanctuary, has noticed a change in his oldest raven resident.
He has begun to bob his head, a sign of the cataracts which are slowly blinding him in his remaining eye.
"It's breeding season, they're all busy building their nests, and Tilly, Tarquin's partner of the last 16 years, is hassling him to get on with the nest building, and he can't because he can't see to build the nest," said Mr Burns.
'Big history'
"He's getting very frustrated."
"We need £1,500 for the operation to fix his cataracts but we don't have the money, so we are fundraising for Tarquin's operation."
Tarquin is believed to be one of the oldest ravens in captivity.
There is no way of knowing his exact age but, according to Mr Burns, vets said he was in his 60s when he was rescued from Burton Bradstock and he has been at the centre for 23 years.
"We reckon he's in his mid-80s," said Mr Burns.
Mr Burns claims Tarquin is "world-famous" as bird enthusiasts from all over the world have read about him on theRaven Havenwebsite.
"Ravens feature in all kinds of literature and mythology, folk lore, legend, they feature in the bible, they're a bird with a big history," he said.
"They're almost fully conscious like humans, they'll plan things, they deceive each other and hide their food from each other.
"They're talkers, they can talk as well as parrots.
"Tarquin's said a few words over the years."
Not spooky
Mr Burns said although the raven was not rare worldwide, there were few in England because of persecution in the past.
Although in the 16th Century ravens were protected because of their ability to scavenge and keep streets clean, in the 19th Century the bird had a bounty on its head.
The species was classed as vermin because of fears it could attack livestock.
By the early 20th Century, ravens had been exterminated in many areas.
However, ravens are now making a comeback and the Raven Haven is making efforts to dispel myths that the birds are "spooky" or associated with death, as they feed on carrion.
Mr Burns said: "We would like to show the British public that ravens are not to be feared but rather respected and loved as extremely intelligent and playful birds.
"They can happily live alongside us in any community whether it be rural or urban. Our main aim is for our family of ravens to make a difference to the slowly returning wild ravens by showing people how fascinating they really are".
In 2010, the Raven Haven rescued 600 birds, releasing into the wild the birds which made a full recovery, while offering a safe home for disabled birds.