Defibrillator locating website launched in West Midlands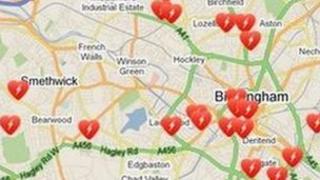 A website has been launched in the West Midlands which lets people use a postcode or place name to find the nearest defibrillator in an emergency.
TheDefib Finder websitealso gives directions to where the defibrillator is kept and a contact name.
West Midlands Ambulance Service, Safeheart UK and the Community Heartbeat charity have spent three years developing the website.
It stores the locations of 2,500 defibrillators.
'Less recovery'
The website covers Birmingham, the Black Country, Warwickshire, Staffordshire, Shropshire, Herefordshire and Worcestershire.
West Midlands Ambulance Service said it hoped the website would eventually hold a national database of locations.
The website is the first to be developed with the co-operation of an ambulance service, the spokesman added.
Duncan Parsonage, from the organisation, said: "Should anyone you know ever suffer a cardiac arrest your first port of call should always be to dial 999 and commence CPR, but more often than not in such situations there are other people in around who could help by fetching a defibrillator."
He said the quicker the defibrillator was used the better a person's chance of survival and the less time they would spend recovering from the cardiac arrest.
The website will also tell the ambulance service when the defibrillator was last used, how many people are trained to use specific device, and when each defibrillator is due for a maintenance check.