Yorkshire landmarks used in London Olympics police training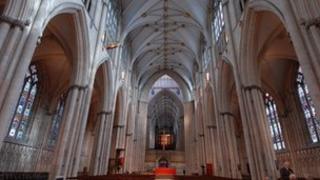 A new Yorkshire-based specialist police team is to use some of the region's best-known landmarks for training ahead of its role in the London Olympics.
Officers from the Policing at Heights team will train at York Minster and the Keighley and Worth Valley Railway.
Members of the team are drawn from British Transport Police (BTP).
Based in Sheffield and York, officers could be called in during the Olympics to search difficult-to-reach locations or remove protesters, BTP said.
It is the first team of its kind to be located outside London.
'Specialist skills'
Roy Brewer, a BTP trainer, said the team was set up following a number of incidents in the north of England when the London team had to be deployed, the most recent being an environmental protest at Drax power station, North Yorkshire, in 2008
"The team was required to safely remove a large number of protesters who had secured themselves on top of a freight train outside the station," he said.
"Following the protest, a north-based team has now been set up and is currently training and gearing up towards assisting in policing of the Olympics."
Ten officers from the northern Policing at Heights team will spend two days taking part in a "real life" incident, much like one they could face at the Olympics, said Mr Brewer.
The team will spend time at York Minster on 5 March before moving on to the Keighley and Worth Valley Railway, Oxenhope, West Yorkshire, on 6 March.
Mr Brewer said: "It will provide them with a great opportunity to put their knowledge and specialist skills into action before they are faced with the real thing in July."