Schmallenberg virus: Kent MP calls for livestock export ban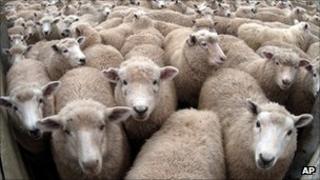 Calls for a ban on the export of livestock in the face of a recent UK outbreak of Schmallenberg virus have been made by a Kent MP.
Laura Sandys, the Conservative MP for Thanet, said the import and export of live animals should be banned to stop the virus spreading.
The disease causes birth defects and miscarriages in livestock.
The government said a ban on animal movements would be "disproportionate and unjustified".
'Such uncertainty'
Ms Sandys said: "There are so many unknowns at present.
"There is no treatment or preventative vaccine available, nor are we are clear on how the virus is being transmitted.
"With such uncertainty about how the infection could spread, I am calling for all international transportation of live animals to cease immediately."
A total of 92 cases of the Schmallenberg virus have been reported in the UK.
Humans are thought to be unaffected by the virus, which is believed to be spread by midges, mosquitoes and ticks.
The most recent cases have been on the Isle of Wight and in Wiltshire, West Berkshire and Gloucestershire.
Earlier cases were reported in Norfolk, Suffolk, Essex, Kent, East and West Sussex, Hertfordshire, Surrey, Hampshire and Cornwall.
Defra said it suspected livestock may have got the virus from infected midges blown across the Channel from affected areas in Europe.
A spokeswoman said: "An import ban on animals would not have prevented animals in the UK from becoming infected and a trade ban now would be of no benefit."