Equality laws 'need to protect all lifestyles'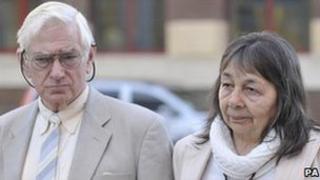 Equality laws need changing to protect all lifestyles, according to a Christian hotelier who banned a gay couple from sharing a double room.
Hazelmary and Peter Bull, from Cornwall, acted unlawfully by refusing to allow civil partners.
Mrs Bull said the situation was brought about by a "head-on collision of lifestyles".
She added that she was backing work by Devon MP Gary Streeter, who was asking for changes in legislation.
'Big' democratic society
Mr and Mrs Bull were ordered in January 2011 at Bristol County Court to pay £3,600 in damages to civil partners Steven Preddy and Martyn Hall, from Bristol.
Mr Bull, 72, and Mrs Bull, who is in her late 60s, refused to let the couple have the room at Chymorvah House in Marazion in 2008.
An appeal against the decision was rejected last month.
At the appeal, judges heard the Bulls thought any sex outside marriage was a sin, but they denied they had discriminated against Mr Hall and Mr Preddy.
Speaking to BBC News about equality laws, Mrs Bull said: "What I would have thought is that, in this country, our democratic society is big enough to be able encompass two different lifestyles.
"But I would like to make sure that we're not going to exchange one lot of oppression for another."
When groups clash
Gary Streeter, Conservative MP for Devon South West, has been leading an inquiry by MPs into recent religious freedom cases, including the Bulls' case.
Mr Streeter, who is also chairman of the Christians in Parliament group, said his inquiry, Clearing the Ground, showed how current legislation needed amending because the 2010 Equalities Act was "introduced in a hurry".
He said: "It [the legislation] lists a number of protected groups, but it doesn't say what happens when those groups clash with one another."
However, critics said any change could become an attempt to turn back the advance of equality.
Ben Kerr, from the Plymouth Humanists group, said the inquiry "seems to wanting to be dragging us back to a place that we were before in history".
He said: "We've made a lot of progress in Western society and got rid of a lot of horrible things."