Delamere Forest holiday village plans opposed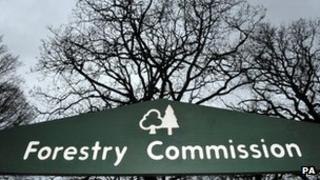 Plans to build a holiday village, restaurant and shops in Cheshire's Delamere Forest are being opposed by local residents.
The Forestry Commission and Forest Holidays are proposing 78 log cabins in the northern part of the woodland.
Campaigners said they were concerned trees would be chopped down and walkers barred from some areas.
The Forestry Commission said plans were still at a consultation stage.
'Part of masterplan'
Nigel Gilden, who is campaigning against the proposals, said: "We're worried about future public access, the environment and tree felling.
"What we're talking about here is 47 acres of woodland that will be put over to 78 holiday lodges.
"That's 26 football pitches side by side. It's a vast area."
Andrea Peattie, Delamere project manager for the Forestry Commission, said theproposalsare "in a pre-planning consultation stage".
She said: "This is an opportunity for everybody to have their say and let us know what they think
"The development is just part of a masterplan for the whole of Delamere Forest to bring it up to modern standards and provide better visitor facilities which are more in keeping with people's expectations in the 21st Century.
"People won't be excluded from that part of the forest.
"There's no chance at all of any fencing or enclosures going up."