HMS Vengeance submarine halts River Tamar traffic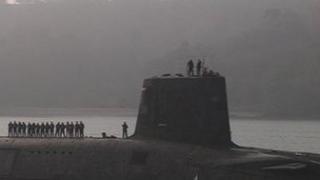 Royal Navy submarine HMS Vengeance has sailed up the River Tamar, causing all shipping movement to be stopped.
The Torpoint and Cremyll ferries suspended their services for the submarine to pass to Devonport dockyard for a refit.
The operation was due to happen on Thursday but was postponed due to fog.
The Ministry of Defence said all vessels would be prevented from sailing for safety reasons because of the size of the submarine.
HMS Vengeance is the newest of the four Trident-carrying strategic missile submarines that make up the UK nuclear deterrent force.
Plymouth's Devonport Dockyard has a £5bn contract to refit the Vanguard class vessels.
They are berthed in a specially-converted dock because they are too big for the yard's other docks at 150m (492ft) long.
In comparison, Devonport Naval Base's Trafalgar class submarines are 85m (279ft) long.