London 2012: Music Nation fulfils personal ambition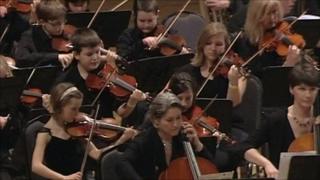 The chance to play with international musicians does not come along very often, especially if you packed your instrument away years ago thinking that your concert days were over.
But Music Nation changed that as 200 adults and children, including me and my father, came together as the BBC Devon and Cornwall Family Orchestra.
Joined by the BBC Concert Orchestra, the 270-strong group performed the world premiere of Tim Steiner's 'Hunter Gatherer'.
In under 30 hours, the four-movement piece - based around some of the region's folk songs including The Helston Furry Dance and Widdecombe Fair - was brought together, reflecting the South West and the musicians involved.
The final rehearsal, on the day of the concert, was the first time the Family Orchestras had played with the Concert Orchestra and, in short, it was the one chance for the 270 musicians to get it right.
While our rehearsals had been noisy and chaotic, things were very calm and measured at the BBC Concert Orchestra, where all conductor Matthew Coorey had to do was instruct sections to replay the odd bar.
Rehearsing with these professionals is an experience like no other - they create a sound so pitch perfect it is as though someone has turned on the radio.
But at no point did we run through the entire piece - that was left for the performance.
'Hunter Gatherer' is allegedly 15 minutes long, but it went in a flash as everyone played to the best of their ability while listening to the Concert Orchestra, following four conductors and absorbing the experience.
A performance brings an energy and vibrancy to music that can seldom be found in rehearsal and 'Hunter Gatherer' experienced that as a great swarm of sound was created.
In short, it was simply thrilling to play.
But the Concert Orchestra demonstrated its versatility as it accompanied Seth Lakeman, a Devon folk artist who has won two Radio Two Folk Awards and was nominated for the Mercury Music Award.
Used to performing alone with just a violin for company, Oscar-winning composer Anne Dudley had re-interpreted six of Lakeman's songs to be performed by him and the Concert Orchestra.
The orchestrated version gave a new flavour to the music, creating a cinematic sound as terrific crashes, rhythm sections and military fanfares told the story of his music in a new way.
Blurring boundaries
Lakeman said: "It's incredible. There's one song called 'Blacksmith's Prayer' and I looked over and there was a familiar sound and a guy was actually playing an anvil - it's bringing these songs back to life.
"It's quite an incredible thing to be able to hear this happen to your songs. I was quite blown away.
"To hear them in this sort of setting or grandeur was quite epic."
The whole evening proved that there can be a blurring of boundaries, both regionally and musically.
The Family Orchestra proved that a lot can be done across all ages, with seven-year-olds playing just as an important role as the Concert Orchestra.
The folk tradition was morphed into a perfect classical piece, a contrast demonstrated in the fashion stakes with Lakeman in his jeans and shirt in contrast to the dinner jackets and evening dresses of the Concert Orchestra.
Alex Osborne, who played violin in the Devon Family Orchestra, said: "It was without doubt the most inspiring musical performance of my career.
"The opening bars of Seth Lakeman's 'Changes' left me captivated and the versatility of the BBC Concert Orchestra - from a James Bond Medley to Elgar's 'Pomp and Circumstance' - was so impressive."
Inspiration was the word of the night, even if many of those involved may have had thoughts of: "If only I had practised more".
But Music Nation hopefully captivated some of the younger players to think about what they could do with music.
On asking my desk partner, Laurence, 11, a violinist in the Cornwall Family Orchestra, whether he fancied a career in music, he said: "I don't know. Maybe. They seem to have a lot of fun."
Everyone from Lakeman to the BBC Concert Orchestra enjoyed the experience, suggesting it does not matter what you play, as long as you play.
If that inspiration transpires into practice and more playing then the music tradition, whatever it may be, in Devon and Cornwall will continue long into the future.