Morecambe Bay NHS Trust reveals 'recovery plan'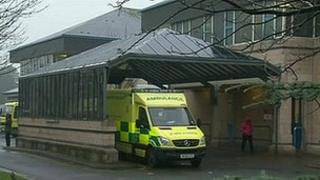 A troubled NHS trust has revealed a "comprehensive recovery plan" to make long-term changes to its hospitals.
University Hospitals of Morecambe Bay NHS Foundation Trust's Sir David Henshaw said the plan would deal with issues raised by the Care Quality Commission (CQC).
The trust has been criticised for failings in a number of areas, including maternity and emergency care.
A CQC spokeswoman said it welcomed any action "towards full compliance".
The trust's chief executive, Tony Halsall, resigned last week, amid several investigations into its hospitals.
Deaths at the baby unit at Furness General Hospital, in Barrow, Cumbria, are being investigated by detectives, and health regulators have criticised standards at Royal Lancaster Infirmary's A&E unit.
Mr Henshaw said the investigations by the CQC and foundation trust regulator Monitor had also made the trust "aware of a number of problems, including staff shortages and other areas of concern about care related to assessment, observation, record keeping and privacy and dignity".
He said that as a result, there would be "a number of changes", including beginning a project to improve end-of-life care and implementing a new system of appointment booking to deal with a backlog of operations.
At the trust's Royal Lancaster Hospital, a mobile operating theatre has been opened to provide extra emergency patient beds and a refurbishment of the emergency department is under way.
Mr Henshaw said that "the level of care, safety and experience that investigators recently identified" had been "completely unacceptable".
However, he thanked trust staff for "their continued hard work and and dedication in what continues to be extremely difficult times".
"Day in, day out our staff treat the majority of patients with a high level of care and professionalism and we appreciate the support and goodwill of our staff, which has been considerable," he said.
The CQC spokeswoman said it welcomed "any action being taken by the trust to move towards full compliance".