Environment Agency cottage plan prompts safety fears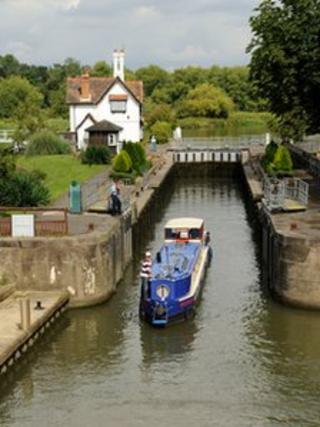 They appear to be a picture of serenity.
Perched alongside locks on some of the prettiest spots on the Thames, many would aspire to live in a lock keepers' cottage.
But a bitter row is bubbling about plans to rent out these peaceful properties.
The Environment Agency - under pressure to rely less on taxpayers' cash - wants tenants to pay up to £1,200 a month for the privilege of occupying a cottage.
By saving the £32,000 cost of a keeper at each lock and by generating an average of £14,000 of income, the agency hopes to raise about £230,000 a year from renting out five properties.
But the Thames Users Group (Tug) claims the plan could jeopardise safety on the river.
Michael Shefras, from Tug, said: "Lock keepers do more than just let people in boats go in and out of locks.
"If we have floods, like we've had in previous years, the lock keepers can save the situation.
"These places get cut off and you need someone there at each lock so you can manage the situation all the way from Lechlade in Gloucestershire to Teddington Lock in London."
Safety 'not compromised'
In response, the Environment Agency (EA) has agreed to run a year-long pilot of renting out the five cottages, which will end in March 2013.
Waterways Operation Manager Matt Carter said the trial would not compromise safety as work would still be carried out by relief staff already used by the agency to provide cover when resident keepers are unavailable.
Chertsey has not had a resident lock keeper for more than two years and has been run safely using relief workers.
He said: "Relief lock keepers do exactly the same job as staff that live on site.
"While resident staff know more about the specific lock, relief staff have broader experience because they work across a range of sites."
He was also keen to stress that no lock keepers were being made redundant and the EA was not selling any properties.
The EA owns 45 cottages which have resident lock keepers.
These are dotted across 145 miles of the river from St John's Lock near the town of Lechlade in Gloucestershire through Wiltshire, Oxfordshire, Berkshire, Buckinghamshire and finishing at Teddington Lock in Surrey where the river becomes tidal.
Mr Shefras says there was "no way" the savings justify moving out the lock keepers.
"We don't believe that what they are doing is financially sensible.
"We have produced a plan B using seasonal relief workers which maintains the resident lock keepers and makes it is more cost effective not to lease the cottages."
But he does admit that there are some locks with good access where they would be prepared to see them rented.
"We are not completely comfortable with that but we have time to negotiate," he added.