Nuclear submarine HMS Tireless visits Southampton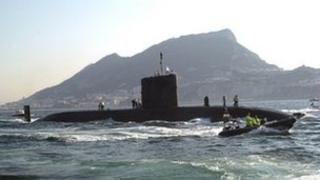 The navy's nuclear submarine HMS Tireless has arrived in Southampton.
The Devon-based submarine, one of six serving Trafalgar-class vessels, is making a five-day official visit to the city.
Dozens of sea cadets, scouts and other youngsters are expected to tour the vessel and meet its crew.
It is the first visit by a nuclear submarine to the city since HMS Astute almost a year ago when an officer was shot dead by a fellow sailor.
Lt Cdr Ian Molyneux was shot while on board the nuclear-powered attack submarine as it was docked in Southampton.
Able Seaman Ryan Samuel Donovan was jailed for life in September.
Fatal explosion
HMS Tireless will be at the Eastern Docks until Tuesday.
Commanding Officer of HMS Tireless, Hywel Griffiths - a former pupil at Peter Symonds College in Winchester - said: "It is with immense personal pride that I bring HMS Tireless to Southampton under my command.
"It is a welcome opportunity for my ship's company to meet people and visit the city of Southampton and for local people to visit us so that we may demonstrate how we are engaged day to day in protecting our nation's interests."
The 27-year-old submarine has also seen tragedy, as in 2007 two mechanics died in an onboard explosion whilst deployed in the North Pole.