London riots: Mark Duggan family not told of death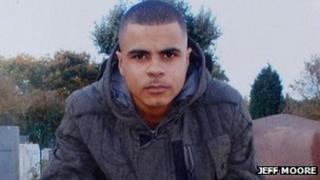 The police watchdog has upheld a complaint by the family of Mark Duggan that they were not told he had been shot dead by officers in London.
Mr Duggan was shot by police last August in Tottenham.
Anger over the shooting sparked riots in the area, which spread across the capital and to other parts of England.
Scotland Yard said it had apologised in September to Mr Duggan's parents for not telling them directly about his death.
Two members of Mr Duggan's family, who introduced themselves as his sister and partner, were spoken to at the scene of the shooting by police family liaison officers.
'Distress caused'
But IPCC Commissioner Rachel Cerfontyne said their accounts of the conversation "differ significantly" from those of the police.
She said: "The family liaison officer told the IPCC that he had confirmed to those family members with '99% certainty' that the person who had been shot was Mark.
"In his account, those family members had asked that the police not attend the Duggan family home to formally notify his parents, as it would be too much of a shock for them and that they would do it themselves.
"By contrast, both family members are categorical that neither of them told the family liaison officers that the police should not visit Mr Duggan's parents to tell them the news of his death, nor did they say that they would inform his parents themselves.
"Indeed, both have said that they left the scene uncertain that the dead man was Mark Duggan, so in their view, they would not have been in a position to deliver such news to his parents."
Ms Cerfontyne said she had apologised to Mr Duggan's family, saying: "I have told them how sorry I am that the IPCC did not provide more support, nor visit them the day after Mr Duggan's death."
'Worst nightmare'
The Met's north area commander Mak Chishty said: "We recognise that it was the responsibility of the Metropolitan Police Service (MPS) to keep the family informed immediately following the shooting and up until it was handed over to the IPCC family liaison managers.
"We acknowledge and apologise for the distress caused by not speaking directly to Mark Duggan's parents Pamela Duggan and Bruno Hall.
"I met with the family of Mark Duggan on 2 September 2011, and apologised to them directly on behalf of the MPS for the distress caused by officers not attending personally to inform them of their son's death."
The IPCC said an investigation into the full circumstances of his death was ongoing.
The Reverend Nims Obunge, Pastor at the Freedom's Ark Church, in Tottenham, said: "Beyond that apology there has to be clear learning about how a family in such a traumatic case is managed and I think that's the big thing here."
Tottenham's Labour MP David Lammy said: "It is any family's worst nightmare to get a knock on the door telling them that their son or daughter has died."
"Mark Duggan's parents weren't even afforded that courtesy."
He added the IPCC had "suffered from a significant credibility gap in Tottenham", adding: "Now we need to see some significant reforms of the IPCC to make sure this never happens again."