Last ditch fight to save Great Yarmouth's coastguards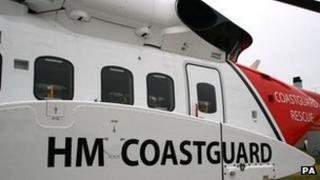 Seven months after the government decided to close Great Yarmouth coastguard station, a new campaign has been launched to try to save it.
Local councillors, union officials and boat owners came together to condemn the closure and to discuss how, at this very late stage, they could mount a fight back.
"I think there is a lot of local feeling that we should still be here fighting," said Peter Wheeler, a Yarmouth coastguard and official with the Public and Commercial Services Union (PCS).
"It doesn't matter what the government says, people still believe we're important to the safety of the general public and there shouldn't be these changes."
The government says developments in technology make it possible to close Great Yarmouth, along with other stations around the country (including the Thames coastguard at Walton-in-Essex), and still provide an effective but much cheaper service.
Under its plans the nearest coastguards to our region will be Dover and Humber with a 'super control centre' on the south coast co-ordinating operations.
"There may be lots of new electronic devices around but you can't beat the human element when it comes to local knowledge," said Conservative councillor Paul Rice who's overseeing the new campaign.
"Will a coastguard in Portsmouth really know what the Greater Gabbard is or where Alderfen Broad is? Local knowledge saves lives."
Closure concerns
The campaign will focus on the risk to public safety.
It is being launched now because Norfolk County Council, at Mr Rice's instigation, unanimously passed a motion condemning the closure.
Those who attended the campaign meeting had plenty of concerns.
They included the big increase in traffic to and from the wind farms, the growing popularity of diving at Sheringham reef, and the large number of tourists who use Norfolk's beaches in the summer.
They argue that these all mean that Norfolk should have more not less emergency cover.
Professor Richard Card from the Norfolk and Suffolk Boating Association reminded the meeting that 800 boats were hired out every week on the Broads, which are also covered by the Yarmouth coastguard, most to inexperienced skippers.
A councillor from Cromer, Hilary Thompson, was worried that a control centre in Portsmouth would be unable to understand local accents.
She told the meeting that the coxswain of the Cromer lifeboat had recently had problems talking on the radio to a colleague in Skegness because they couldn't understand his broad Norfolk accent.
In an emergency she said that could lead to delays.
But several people also expressed the fear that this new campaign was starting too late.
"I think the argument has already been made and I'm sorry to say I'd be surprised if we were able to change the Minister's mind," said Professor Card.
Change of heart?
"We have a strong case about the threat to safety which the Maritime and Coastguard Agency can't answer, that's why we should keep on fighting," said Richard Edwards, a regional official with the PCS union.
"Everyone thought the forests were going to be privatised but it was local people who bombarded their MPs and made the government change their mind and that's what we have to do."
The campaign group Save our Coastguards say that across the country there are still campaigns underway to try to force a change of heart.
In Walton-on-the-Naze in Essex campaigners are keeping a tally of incidents which the Thames coastguard attends to and regularly forwards the list to their MP, Douglas Carswell.
At Westminster there is a feeling, even among those MPs who opposed the closure programme, that it's now too late for any more campaigning.
But the meeting in Norfolk showed that there are still some people who want to keep on fighting.
"We can't go down without making our point as clear as we can," said Peter Wheeler.
"If we give up and roll over it's a poor show on our part."