Ordnance Survey unit moves to East Midlands Airport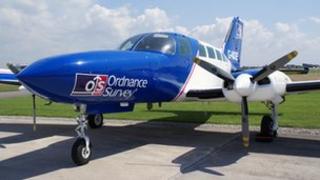 A flying team which has mapped Britain for more than 50 years has moved to East Midlands Airport.
Ordnance Survey's flying unit will use the airport as a base for at least the next three years.
The mapping agency uses two aircraft to capture high-quality aerial imagery and update their master map with more than 5,000 changes a day.
The aircraft have relocated from Blackpool for the beginning of the 2012 flying season, which starts on 1 March.
Melanie Osborne, communications manager for Ordnance Survey, said: "They fly at about 3,000ft (914.4m) so they are probably too high for people to identify they are our planes, but on take-off and landing people might see them because they are distinctive and brightly coloured."
Ordnance Survey has a contract with aircraft service provider RVL Group, which recently opened a new hangar at East Midlands Airport.
The airport is located at Castle Donington in Leicestershire, and lies in between Derby, Leicester and Nottingham.
'Operational efficiencies'
Tony Mabey, head of remote sensing at Ordnance Survey, said: "We have moved to make commercial and operational efficiencies connected to the current contract with the aircraft service provider.
"As a world-class mapping agency, it is important for us to be making the most of the technology and the opportunities to update our mapping as cost effectively and efficiently as we can."
The Cessna 402 and Cessna 404 light aircraft carry cameras which record change at up to 196 megapixels of detail, and up to 2.36in (6cm) accuracy.
The cameras captured more than 51,000 useable frames during the 2011 flying season, including those covering 14 Olympic sites.