Family Orchestra in final rehearsal for Music Nation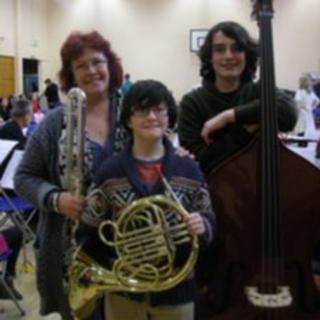 The final rehearsal has taken place for 200 South West amateur musicians who are preparing to debut a new work with the BBC Concert Orchestra (BBC CO).
The Devon and Cornwall Family Orchestra will perform Tim Steiner's work, Hunter Gatherer, as part of Music Nation.
They will perform at Party at the Pavilions in Plymouth on 3 March with folk musician Seth Lakeman and BBC CO.
Music Nation, on 3 and 4 March, is the first nationwide countdown to the London 2012 Festival.
Mr Steiner, composer and project leader, used regional folk music complied inSabine Baring-Gould's1889 collection as the thread to draw the orchestras together.
"We've re-arranged and mashed them together and we're now creating a piece of music that's a little bit like a mystical county fair somewhere on the Devon-Cornwall border," he said.
"At one point in the piece we hear theHelston Furry Danceplayed in three different keys, in three different tempos, one by each of the orchestras, so it's like being in a fair.
"It's something you never hear and it's very difficult for a single orchestra to do."
The final rehearsal was the first time the two orchestras had met.
Mr Steiner said that he had had to be mindful of his musicians - 200 amateurs of varying abilities aged from seven up to their late 60s, as well as incorporating the BBC CO.
"One thing that's really important working with children, beginners and amateurs is to try to capture the sound that they make rather than try to make them sound as though they were professionals," he said.
"Children can make sounds that adults can't and so my job is to really capture that and bring it into the piece."
Mr Steiner added: "The Cornwall orchestra have got a very strong brass presence and that really informs their whole sound."
Kate Moore, BBC CO principal trumpet player, who worked with Cornwall's brass section and is originally from the county, said that this had been her "happiest project".
To take part the young players had to be accompanied by an adult, who, whether musical or not, were encouraged to slot into the orchestra or chorus.
The Aulakh family from Plymouth were encouraged to join by their 10-year-old daughter Sehyogue who plays the xylophone in the percussion section.
Her father, Gursewak, said: "I think it's going to be quite an experience for us because it's something that we've never really done as a family.
"My daughter is the musical one so we said we'll all get in the groove, it's good to play together."
But, unlike other instruments, the percussionists do not have sheet music.
Stephen Whibley, BBC CO Percussionist, said: "They're just relying on hand signals to start so when they're playing grooves and rhythms they're on their own, but I think they'll remember it."
On the day the piece will be led by four conductors. Matthew Coorey will conduct the overall piece, Tim Steiner will look after the Devon section, Sarah Freestone will conduct Cornwall and Angela Renshaw will lead the chorus.
Shipping Forecast
Eleven-year-old Zuzu Hanley, who will be playing the French horn alongside her mother and brother, said: "I normally listen to rock or pop but when I come to stuff like this it really inspires me to play more of my own instrument."
Many parents have relished the opportunity to perform with their children, including Zuzu's mother, Sarah, who plays the flute.
"This is the fantastic thing about it, playing with Max and Zuzu, we're all able to take part and seeing the whole thing come to fruition we go home on a high," she said.
The final rehearsal brought all the elements, including an excerpt from the Shipping Forecast, together.
The Family Orchestra has just one more hour to perfect the piece before a run-through with the BBC CO and then the performance.
But Mr Steiner added: "It's all in good shape."
BBC Radio Cornwall and BBC Radio Devon will broadcast the concert live from 19:00 GMT.