Yorkshire Water fibreglass covers to stop metal theft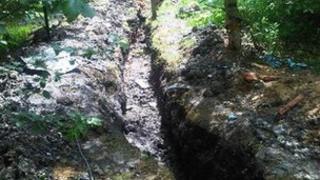 A water company is testing a fibreglass manhole cover to combat "epidemic levels" of metal theft.
Yorkshire Water said it was reporting an average of £20,000 in metal thefts a month from its network.
In 2011, the company spent £410,000 replacing stolen metal parts, including 7km (4.3 miles) of earthing cable.
CCTV cameras and motion sensors are also being installed at sites and a special grease is being coated on machinery and equipment.
Peter Ramsay, security and emergency planning manager at Yorkshire Water, said: "The problem ranges from the opportunist theft of one of our sewer or hydrant covers, to the organised theft of hundreds of metres of cable or copper pipe, and even larger appliances such as lifting equipment and generators."
Public injured
Recent thefts include copper being stolen at a water pumping station in East Hull, which the company said could have had severe consequences had the pumps been needed to drain away storm water.
In August 2011, thieves stole 1,200m of copper cable from a treatment works in West Yorkshire.
Yorkshire Water said South Yorkshire was a particular hotspot, with problems worst at its sites in Sheffield, Doncaster and Rotherham as well as Castleford in West Yorkshire and Colburn in North Yorkshire.
The company said it had seen a number of incidents where members of the public had been injured as a result of the theft of manhole covers.
Andrew Burton, from Structural Science Composites, which produces the covers, said the fibreglass ones could not be melted down or reused.