Former BBC boss on when phone hacking can be justified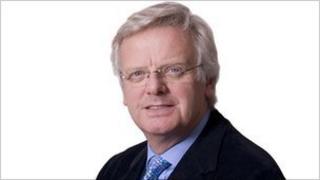 Should we trust British journalism? That was one of the big talking points of a weekend TV studio debate.
It coincided with Rupert Murdoch's fight back - the publication of The Sun on Sunday.
So what is the state of our newspapers?
Starkly contrasting images spring to mind; grubby and illegal phone hacking in pursuit of a tabloid headline, and the search for truth that led to war correspondent Marie Colvin losing her life in attempting to report the uprising in Syria.
The Leveson inquiry into the phone hacking scandal and tabloid excesses have posed another question for me: do we get the press we deserve in this country?
Grade's viewpoint
I had an opportunity to put that question to a media mogul with a seat on the Press Complaints Council, the industry body with responsibility for scrutinising our newspapers.
He's also the former TV executive remembered by some for exterminating Dr Who in the 1980s.
The wobbly sets were hardly high-tech. And there's Kylie and Neighbours: he took the gamble that British TV viewers would embrace Ramsay Street.
Michael Grade these days is a Conservative peer.
But Lord Grade of Yarmouth (he took the name because of his love of sailing off the Isle of Wight) is still a hugely influential media figure.
He started as a sports writer on the Daily Mirror and went on to run the BBC and ITV.
Last month, Lord Grade gave evidence to the Leveson inquiry. His thoughts on the state of British journalism have influence.
So when he visited in Nottingham, I took my question to him: "Do we get the newspapers we deserve?"
"We've got an extraordinary range of press in Britain. But press standards are in the dock and so they should be," he told me.
Public interest
But what was particularly revealing was his acceptance of when phone hacking could be justified.
"You would have to be a kamikaze merchant to hack someone's phone now," he said.
"But I would condone phone hacking if it was the only way of exposing wrong doing.
"If a reporter came to me as editor-in-chief and said 'look, there is prima facie evidence we've discovered that, say, George Osborne had his hand in the till.
"We can't publish because we haven't got enough to go on, but if there is compelling evidence, how do you prove or disprove it?
"We know he's going to be talking to someone at such and such time, so on a matter of overriding public interest and huge public importance, then I would condone it at that point and I would defend it."
Lord Grade is a strong defender of BBC journalism and its key role in ensuring impartiality and high standards.
That's not always a popular message to deliver to a Conservative audience, as was the case on his visit to Nottingham.
"There are mistakes in broadcasting but they are pretty few and far between. The programme codes and compliance are very straight forward indeed. You don't cross the line," he added.
Beyond Leveson
So what impact will Leveson have on the Press Complaints Council (PCC) and its future?
Lord Grade says change is inevitable.
"Leveson is about reforming the PCC .The reinvention of the PCC will be a good thing.
"It's a good catharsis and we'll go through a much better period of press behaviour.
"Newspapers used to be very unaccountable. But remember, it was the newspapers that exposed the phone hacking scandal.
"We'll get through this. People say to me that the PCC was asleep on the job but if the threat of prison wasn't enough to deter reporters and private investigators from hacking phones, what do you think the PCC could have done about it?
"This was the work of a few rogue reporters. I would hate for us to have draconian laws or regulation of the press. The press has made its mistakes.
"What you can't do is just go on a fishing expedition in the hope you get a story that you can flog to the Sun or News of the World.
"That's not journalism.
"You don't do it unless there is some overriding public interest in exposing wrong doing in high places.
"If it's the only way of getting the story, then it would be justified but you would have to test that in court and the judge would have to take a view whether there was a public interest of not."
It was the Prime Minister who set up the Leveson inquiry and it'll be up to him to act on its findings.
Lord Grade accepts the PPC will no longer be seen as "fit for purpose".